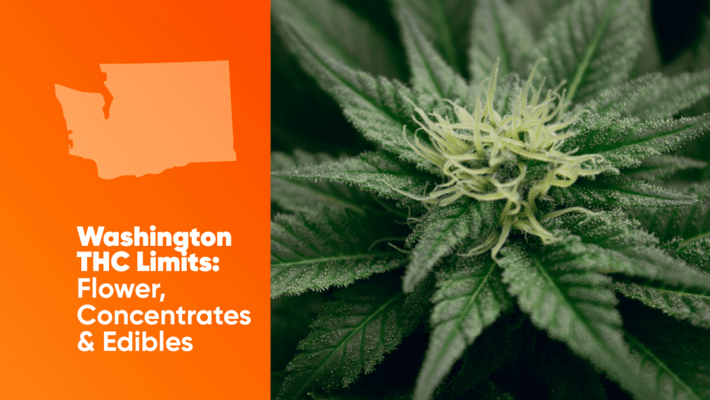 Washington THC Limits: Flower, Concentrates & Edibles
Cannabis is not yet federally legal, which means that there are no unified regulations that states are required to follow. Some laws, like possession and purchasing limits or qualifying medical cannabis conditions, differ by state. If you live in or are planning to visit a state and use cannabis, we recommend getting to know that state's laws for age, availability, and possession limits. If you live in or are planning to visit Washington anytime soon, keep reading!
Washington State Cannabis Laws and Legality
Just in case you aren't familiar with the current state of cannabis in America, here's a question you need to have answered. "Is marijuana legal in Washington State?" The answer is yes. In 2012, Washington was the first state, along with Colorado, to legalize recreational cannabis. 14 years prior, in 1998, Washington had also become one of the first states to legalize medical marijuana. Washington has always been progressive regarding cannabis, and we don't expect that to end anytime soon!
Washington Medical Marijuana Laws
As we stated above, medical marijuana has been available in Washington for nearly 25 years. To buy medical marijuana in Washington, you must be at least 18 years old and have a medical marijuana card. To get that card, you must have a qualifying condition and an official endorsement from a medical professional. Here are the qualifying conditions that will allow you access to the state's medical marijuana program:
Anorexia
Appetite Loss
Cancer
Chronic Renal Failure (requiring hemodialysis)
Crohn's Disease
Epilepsy (or other seizure disorders)
Glaucoma
Hepatitis C
Human Immunodeficiency Virus (HIV)
Intractable Pain
Multiple Sclerosis
Post-Traumatic Stress Disorder (PTSD)
Traumatic Brain Injury
Wasting Syndrome
In addition to the qualifying conditions above, Washington states that "humanitarian compassion necessitates" a person with a terminal or debilitating medical condition to be able to choose medical marijuana, so long as their healthcare practitioner agrees. This means that there are other things not on the list that may qualify. However, it's important to note that mental health conditions do not qualify. If you are a Washington resident looking to get a medical marijuana card, we highly recommend talking to a medical professional or looking for a service like Leafwell.
It's also worth noting that minors, so long as they have the approval, registration, and medical supervision of a custodial parent or legal guardian at least 18 years old, can qualify for a medical cannabis card. Legal guardians and caregivers are able to purchase and pick up medical cannabis for their underage patients.
Other Important Washington Cannabis Laws
Along with medical cannabis laws, there are a handful of other laws that have been around for a long time. These laws are common sense laws that apply to both medical and recreational cannabis, and they are usually the same across all states.
It is illegal to smoke or consume cannabis in public.
The possession or use of cannabis on any federal land is illegal (i.e., national parks, beaches, and forests).
Underage possession is illegal.
Driving under the influence of cannabis is illegal (and, like alcohol, is strictly enforced).
Cannabis cannot be transported across state lines, even to another legal state.
Laws for Washington Cannabis Limits and More
Now that we've covered the common sense laws you're probably already familiar with, here's the meat of the article. Let's answer your questions, like what is the edible limit in Washington State, and how much can you buy from a dispensary at a time?
The current recreational cannabis Washington possession and purchase limits are up to one ounce (28 grams) of usable marijuana, 16 ounces (448 grams) of marijuana-infused products like edibles, or 72 ounces (2 kilograms) of liquid marijuana-infused products like tinctures (or a reasonable combination of all types). Medical patients are allowed up to 3 ounces of usable cannabis, 48 ounces of cannabis-infused product in solid form, 216 ounces of cannabis-infused product in liquid form, or 21 grams of cannabis concentrate (or a reasonable combination of all types).
If caught with more than the legal recreational weed Washington limit, between one ounce and 40 grams, you may receive a misdemeanor with up to 90 days in jail and a $1,000 fine. Possessing more than 40 grams may result in a felony with up to five years in jail and a $10,000 fine.
There are a couple of other Washington cannabis laws that are useful to know. For instance, while Washington has long been a progressive state, especially regarding cannabis, marijuana delivery services are strictly prohibited across the state. This was reinforced recently by a court ruling that marijuana delivery explicitly goes against the state's Alcohol and Cannabis Board regulations. Additionally, if you have a Washington medical marijuana card, you can cultivate up to six plants for personal use at home and possess up to eight ounces of useable marijuana from those plants at any given time. It is currently illegal for recreational users to grow marijuana for personal use, but that may change soon. House Bill 1019, if passed, would also allow adults to cultivate up to six plants at a time.
Do you live in Washington State or visit often? Let us know how the current Washington laws affect you as a cannabis consumer and what you wish would change. Comment below!