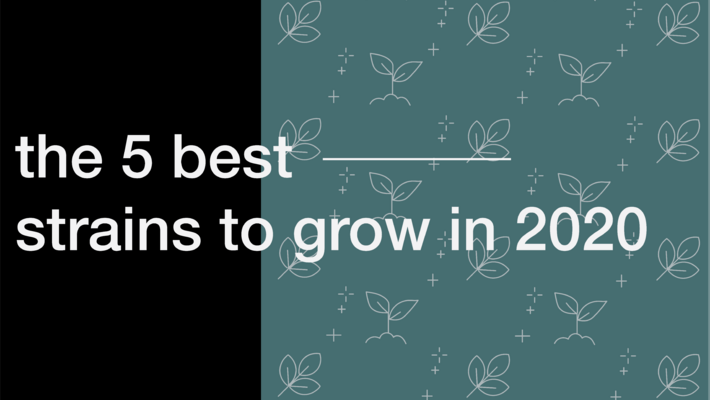 The 5 Best Strains to Grow in 2020
Whether you are starting a small two plant home grow or run a major grow-operation for a nationwide dispensary, you need to know the hottest strains on the market before youplant your first seed or prep your first clone. The new strains of our modern era have a higher THC content, better yields and more complex terpene profiles than ever before. Knowing the best and brightest strains out today will galvanize your yields and help you create a premium product with potent aromas and tasty flavors.
It is almost time to start planning out strains for 2020, and cannabis cultivators are starting to look to the market to determine the most popular strains with the best yields. Thanks to our many friends in cannabis cultivation, here are 5 of the best, recommended strains to grow this year.
How to Select the Perfect Strain To Grow in 2020
Increase Your Yields With Vanilla Frosting

Humboldt Seed Co created this frosty strain in response to the rising popularity of the Gelato strains, crossing Humboldt Frost OG with Humboldt Gelato Bx3. The Frost OG helps improve the often low yields of other Gelato strains, producing big plants with tons of flower. Dense trichome covered buds are common traits of this particular strain, with huge nugs that won't fall apart after curing.
Vanilla Frosting packs a punch with the fruit-filled aroma and flavor typical in the Gelato strains, combined with the unbeatable highs of Frost OG. The silver and purple leaves on the buds dazzle the eyes and will be crowd favorites on the top shelf of any dispensary.
Get Frosty With Wedding Flowers

Wedding Flowers is Dr. Krippling's take on one of America's favorite strains, Wedding Cake. The idyllic buds produced on these plants are covered with sticky trichomes and beautiful amber hairs, creating citrus and fruit flavors with strong hints of vanilla and cake, synonymous with the Wedding Cake strains. High yields and high THC content characterize this strain, making it a favorite for both growers and users.
Breathe Life into your OG with Watermelon OG!

If you are looking to update your regular OG grow with something trendy and innovative, the wonderful geneticists over at Dying Breed Seeds have created a winner with their newly made Watermelon OG. This unique strain crosses the fruit-filled Watermelon with OG Eddy to create something truly special. If you are looking for a high yielding Indica strain to fill your garden this year, the terpene filled Watermelon OG should be your go-to. Find this sticky strain at Neptune Seed Bank and start growing some fruit of your own!
Stay Trendy With A Gelato Strain

Like it or not, Gelato strains are hot right now with cannabis connoisseurs and are one of the most requested categories on the market. Originating in the Bay Area, this fruity strain has become popular due to its hyper-fruity aroma and colorful appearance. The high THC content helps drive sales in many dispensaries, making Gelato and easy choice for commercial growers. The yields with many strains in the Gelato family can sometimes be low, so it may be worth trying one the dozens of Gelato crosses available, such as Exotic Genetix Cookies and Cream F2 X Gelato cross, Gelato Mint.
Get Mellow With Do-Si-Dos

This Indica dominant strain is a cross of Girl Scout Cookies and Face Off OG, creating a wonderfully potent plant with THC levels often exceeding 30%. The high from smoking this creative strain is heavy-hitting and can often couch-lock any user, making for a relaxing day of giggle-inducing fun. The yields resulting from this cross are bountiful, making it a great choice for those looking for the perfect new indica to grow.