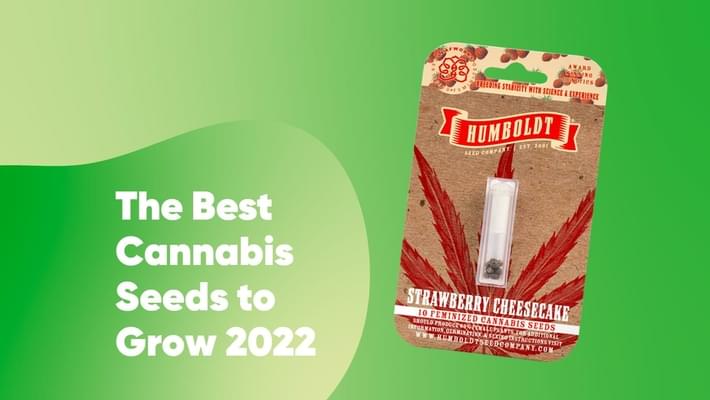 The Best Cannabis Seeds to Grow 2022
For all of those gardening fanatics out there, it's officially that special time of year once again. It's time to buy your fertilizer, flower pots, new gardening tools, and, of course, your seeds. After all, it would be difficult to plant your yearly harvest of cucumbers, peas, tomatoes, and such without getting your hands on some healthy, reliable seeds. For those cannabis home-growing enthusiasts, the same concept applies to planting, growing, and harvesting their own cannabis.
And while home-growing cannabis is still a little bit limited, with only 19 states allowing for some type of home-based cultivation of cannabis plants, many are still looking to extend their green thumb into the world of cannabis. However, you'll need some viable, top-notch cannabis seeds to do that. But where do you even start looking for viable marijuana seeds? And is it even legal to buy cannabis seeds in the first place? Thankfully, we here at Where's Weed have your back and have the answers to all of those questions!
This article will break down some of the best places to buy cannabis seeds, how to acquire, germinate, and get cannabis seeds to grow in your personal garden, and, finally, some of the best weed seeds to get your hands on and grow this year!
So without too much further ado, let's get right into it!
The Basics of Buying Cannabis Seeds

First and foremost, before you go online and search out the best place to buy seeds, it's important to note that they're not universally legal. Due to the patchwork nature of legal cannabis legislation and continued federal prohibition of all forms of cannabis, only a handful of states allow you to legally purchase seeds of your own.
If you happen to live in a state that allows for their dispensaries to sell seeds, then that's your best bet to get them. But, to be honest, those dispensaries that can sell seeds are few and far between. Like it or not, whether you live in a legal state or not, your best bet is likely to order your seeds online.
Thankfully, there's a decent amount of options for those looking to grab some seeds of their own this spring. Here's a brief list of some of the online resources we recommend for picking up some seeds of your own:
If You're in the U.S.
If you're a North American-based seed buyer, here are some of the best online seed depots North America offers:
If You're In Europe
If you're outside of North America, specifically across the pond, you'll need to opt for different seed resources than here in North America. Here's a list of some of the best to consider when picking up seeds of your own:
Different Options for Cannabis Seeds
Now that we've broken down where and how to get some cannabis seeds of your own online let's dig a little deeper into the type of marijuana seeds you can typically get from the outlets above. Let's get right into it!
When buying standard cannabis seeds, you're getting the bare-bones basics. That means you'll get a mix of male and female seeds that aren't fertilized or auto-flowering. They're just about as basic as it gets, like the standard seeds you'll get from your local store. These types of seeds are likely the most labor-intensive and should be avoided by novice growers.
Fertilized Seeds
These types of seeds are the next step up from the basic package, allowing you just to stick the seeds into the soil and start growing buds of your own. This reduces the chance of a stray male ending up in the package of seeds, which would ruin the potential crop and reduce the overall quality of your cannabis buds.
Autoflowering Seeds
These types of seeds morph from the vegetative to flowering state with age, meaning they have a short grow-to-harvest time of only around 3 months from the date they're planted. This variety of seeds is great for those who want to grow cannabis but don't want to dedicate a lot of time to it. Think of it like growing cannabis plants on easy mode!
How to Grow Cannabis Seeds

Now that you know where to get the seeds and what variety of seeds to get, let's break down the process of planting and growing the seeds themselves. Thankfully, we here at Where's Weed have your back and will give you a quick step-by-step guide on how to germinate, plant, and grow cannabis seeds from the ground up!
Step 1: Germinate Your Seeds
If you didn't buy previously germinated or auto-flowering seeds, you will need to take the extra step of properly germinating your standard cannabis seeds. Thankfully, it's a pretty simple and straightforward process!
You will need to soak your seeds in lukewarm water in a dark, warm place like a kitchen cabinet for 12-24 hours. By doing this, the seed absorbs the water and loosens the seed's shell, allowing the plant to grow more easily.
This is the first step to producing strong, sturdy cannabis seeds that will grow into top-notch cannabis plants.
Step 2: Plant Your Seeds
Once your seeds are germinated and ready to be planted, the next step is to stick them into the dirt. It's really that simple! Thankfully, we have some other resources on how to get the best from your plants, what soils and such to use, and how to grow your plants from start to harvest.
Best Cannabis Seeds to Grow in 2022
Now that we've gone in-depth on how and where to get, along with where to grow cannabis seeds, let's break down a few of the best strains to grow this spring. After all, what's the good of all this knowledge without being able to put it to good use?
So here's our comprehensive list of the best cannabis seeds to grow in 2022:

If you're looking for a lovely, well-balanced hybrid strain with the potential for up to 19 percent THC and a massive yield, this first entry on our list is right for you. These feminized seeds are simple and easy to plant after some simple germination, produce massively high yields, and are known for their mind-opening, euphoric high with a powerful mental buzz. It's tough to go wrong if you pick up a seed like this for your 2022 crop!

This sativa strain is perfect for those looking for those on the hunt for a strain with moderate THC levels, great for indoor and outdoor use, then this one is for you! Packed with around 18 percent THC, this strain is known for its earthy, lemony, skunky, earthy scents and tall, bold plants.
If planted, this strain will likely stand taller than the rest of your crop this spring and summer!

If you're looking for a potent indica strain that packs a real punch when it comes to THC, then this next strain is right for you! This easy-growing, high-yield strain is known for its skunky odor and citrusy, fruity, and sweet terpenes and packs a whopping 20 percent THC to boot. Flowering in only about 8 weeks after being germinated and planted, this fast-growing strain is a must-have for home growers this spring!

For those upstart home growers without too much experience, we have a mix of seeds that will help you get your first 2022 harvest started with a bang. Containing a blend of White Widow, AK-47, and Bubble Gum feminized seeds for guaranteed yields, each of these strains contain between 17-20 percent THC. So not only are they simple and easy to grow, but they pack a heck of a THC-laden punch as well. It's an excellent option for beginners who are looking to get their green thumb going.

If you're a somewhat experienced grower who particularly loves high-THC strains, then this last entry on our list of best seeds for 2022 is just for you! This mix of Gorilla Glue, Bruce Banner, and Girl Scout Cookies Extrm, all feminized seeds, contain between 21 to 26 percent, so they pack a HUGE punch. If you're a fan of getting absolutely blasted, then these strains are your best bet!