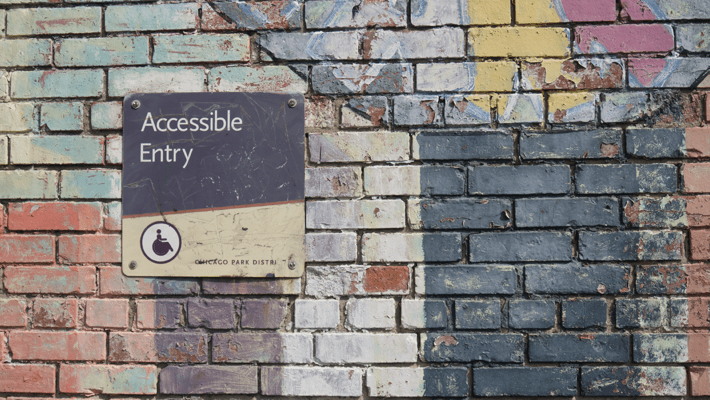 How to Make Your Cannabis Dispensary Accessible
We believe dispensaries should welcome all people equally, including those living with disabilities. Inclusion and accessibility are necessary cornerstones to social justice, something we passionately advocate for, especially within the cannabis industry and the larger cannabis culture. If you own or work for a dispensary, we encourage you to consider your store from as many perspectives as you can. Is your store physically accessible to people who live with physical, mental and developmental disabilities? What can you do to be a more approachable, accessible cannabis dispensary? Let's take a look at some fundamental ways you can provide a more accessible experience to those living with a disability.
The Largest Minority in the World

According to the World Health Organization (WHO) and the World Bank, roughly 15% of the world's population lives with a disability. At around 1 billion people, this means that the disabled population is the world's largest minority. Over the last few decades, individuals living with disabilities have slowly received more recognition and consideration, but they are still a largely marginalized group. It is no different in the United States. The CDC reports that 1 in 4 American adults (26% of the adult population) has some type of disability. Here's a list of functional disability types provided by the CDC and the percentage of adult Americans affected:
Mobility (13.7%)
Cognitive (10.8%)
Independent Living (6.8%)
Hearing (5.9%)
Vision (4.6%)
Self-Care (3.7%)
While the medicinal benefits of cannabis, both marijuana and hemp, have not been conclusively studied; there is a lot of evidence and testimony that it can help alleviate a wide variety of symptoms and conditions. While not everyone with a disability may find cannabis effective, there's a chance that those living with a disability may benefit from cannabis in some capacity. Cannabis is thought to treat chronic pain (especially muscle and nerve pain), depression and anxiety, insomnia, PTSD, seizures, weight loss, nausea and other conditions like wasting syndrome associated with HIV.
Disabilities are not a single story. Individuals living with disabilities may find symptoms of their disability relieved from the use of marijuana, but they may also be using cannabis to treat other related conditions. Because of this, it is critically important that people with disabilities feel welcomed into the dispensary. Of course, there are many other reasons, including social equality and basic human decency and kindness. We need to ensure, as an industry, that we are making cannabis as accessible to those with disabilities as possible.
Ways to Make Your Dispensary More Accessible to Those Living with Disabilities

Wheelchair Accessibility
Your first order of business is to ensure every customer can physically access your store. Disabilities that affect mobility are the most common type of disability in the United States, so having a ramp or ground-level entrance will make a huge difference for many of your customers. If you're able, have "handicap" parking near the entrance. If your store is located on a sidewalk with a curb, you should also do what you can to ensure there is an easy-access spot from the street to the sidewalk.
Curbside Pickup
There may be customers who, for reasons related to their disability, prefer to stay in their car if possible. An easy way to make your shop as accessible as possible is to have an online ordering system and curbside pickup. When you do this, just make sure to follow all regulations; check IDs, medical marijuana cards, etc.
Website Accessibility
All of your customers should have the ability to look up information about your shop online, look at your store hours or online menu and place orders through your website. Things you may not consider as important or relevant to accessibility often get in the way of an easy shopping experience. Can customers with visual differences access all the information on your website even if they can't see it? Will customers prone to seizures have to worry about quick-flashing lights or videos? Are those with intellectual or developmental disabilities able to easily navigate and understand your content layout? These are all very important questions for a lot of people. For more information, check out the National Disability Authority's website accessibility guideline.
Countertops & In-Store Access

Once your customers are in the store, everything should be laid out in a sensible, easy-access layout. Try to have display cases lit, labeled, and in easy-to-see places closer to the ground. Doorways should be large enough for wheelchairs to fit through and the throughways of your store should also be large enough to comfortably fit utility items and offer customers extra space to feel comfortable. The checkout area should also be easy to reach and have enough room for wheelchairs and other utility items to fit.
Store Signage & Company Language
Everything in your store should be marked, from products to bathrooms and exits. If any of your signage or company policies on display mention people with disabilities, make sure they use person-first language. Instead of a "handicapped person" or "disabled person," the language should state "person with a disability." Disabilities are not a negative and shouldn't be mentioned as such. Language surrounding disabilities should not be framed as an impairment either. People who use wheelchairs should not be considered "confined" to them, nor should be with various physical or intellectual disabilities be considered or addressed as "suffering" from their condition.
Employee Training
Probably the most important thing you can do to make your dispensary more accessible to people with disabilities is to train your staff on how to properly engage and inform people with a variety of disabilities. How your employees treat your customers with disabilities will be the most defining aspect of their experience, and it needs to be a positive one. People with disabilities are treated unfairly, not given enough thought and talked to as if they are second-class citizens far too often. Ensuring your staff is trained to treat people with disabilities fairly and know how to properly address and tailor the experience to their needs is not just good for your business or an individual customer's experience, but also for helping advance the social justice long overdue to the disabled community.
Do you or someone you know live with a disability? Let us know what your experience with dispensaries has been like and what can be done to improve accessibility and inclusion. Comment below!