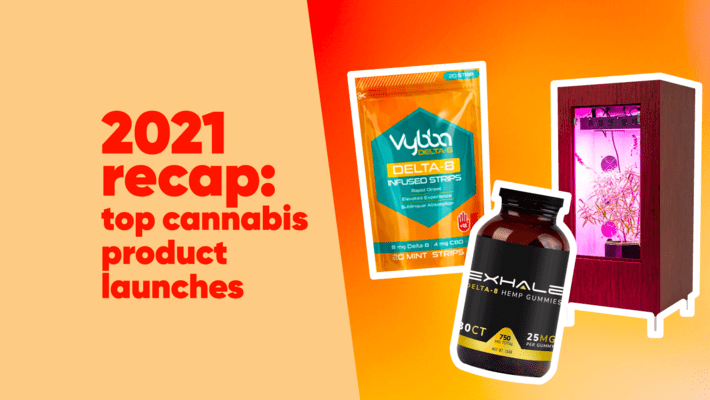 Top Six Marijuana Product Launches in 2021
The growth of the cannabis industry over the last two decades or so has been astronomical. Going from an illegal underground black market trade to the multibillion-dollar legal juggernaut in more than three-fifths of the states in the union is an unprecedented rise.
Today, the legal cannabis market is projected to be worth tens of billions, creating countless jobs and economic opportunities for states and communities that welcome it with open arms. The industry shows no signs of slowing down anytime soon. So with all of that money, investment, and brainpower being poured into the still-developing project that is legal cannabis, it only makes sense to see innovative, cutting-edge, and exciting products emerge and flourish every year. That's where we here at Where's Weed come in!
We're all about connecting our readers with the latest and greatest cannabis products, especially during the holiday season, so that you can either splurge for yourself on a product of your choice or grab one for a loved one. That's why we assembled this list of six of the coolest, most interesting, and top-notch cannabis products that debuted in 2021.
So with that in mind, let's get right into it!

For the first entry in our list, we want to highlight a cannabis product accessible to anyone and everyone, whether they live in a legal state or not! And thanks to the recent rise of Delta-8 THC, it's possible to give the gift of green this holiday season to your friends & relatives who live in states where no form of cannabis is legal!
We recommend these Vybba Delta-8 infused breath strips. Not only are they discrete, individually packaged, incredibly easy to dose with only 8 mg of Delta-8 THC and an added kick of 4 mg CBD per strip, and infused with enough mint to freshen your breath in the process.
While the high from Delta-8 might be a little bit different than the standard THC experience, it's more than enough to keep your friend or loved one in that non-cannabis legal state chilled out, lifted, and minty fresh this holiday season and beyond!

If you or your loved one happen to live in a state where recreational cannabis is still illegal, but gummies are more your style than breath strips, then these Delta-8 THC gummies are an excellent option for simple and effective low doses of active, powerful cannabinoids.
Packing 25 mg of Delta-8 power per gummy, 100 percent vegan, cruelty-free, and organic, and one of the highest potency gummies available on the market today, these chewable, tasty treats are a great way to get a legal buzz no matter where in the U.S. you live!
3. Fidel's Hash Hole Cookies
For those looking for some standard THC from the state's legal dispensaries instead, these pre-rolls full of top-notch cannabis from a well-known brand like Cookies are likely right up your alley.
Pretty much everything the Cookies brand produces is high-quality stuff, but these pre-rolls are our pick because of the ease and conscience associated with them. Being able to light up and enjoy some top-notch cannabis is a luxury that's worth every penny.
Available in dispensaries primarily in larger population centers around the country, getting your hands on the gift that is these pre-rolled new delights might be difficult. Still, it's worth the effort this holiday season!

For the home growers and caregivers out there growing for patients, this entry on the list is for you. We often talk here at Where's Weed about the importance of investing in your home grow operation if you're looking to get the best out of the plants you're producing. That's where this grow box comes in.
The Armoire by Green Goddess Supplies is a top-notch grow box that promises users a rapid seed to harvest process for their plants. Packed with the most up-to-date internal temperature & light control systems, child locks and protections to keep folks out of the box who aren't supposed to be there. In addition to a natural furniture-like aesthetic, this grow box promises a 60-day cycle from seed to harvest and a quarter-pound more yield per grow cycle.
When it comes to homegrown and producing top-notch plants of your own, it's pretty much impossible to beat this product. Not only is it one of the best products of the year, but it's also one of the best products we've featured here if you care about growing your own flower!

For the dabbers and bowl smokers out there, this entry on the list is for you. If you're looking to take your bowl, joint, or dab hit to the next level, then this CBG crumble is for you!
Pungent and potent with notes of cloves, black pepper, eucalyptus, ginseng, and ginger, this CBN-packed crumble will add a cannabinoid kick to anything you mix it into.
If you're looking for a way to spice up the next joint you roll, bowl you pack, or dab you rip, then this product is right for you or the cannabis aficionado you love!

For the final entry on our list, we want to highlight a product that might just change how people dab moving forward. For those tired of fussing with old-school dab rigs and burning themselves, this one's for you!
This electronic dab pen from Cookies is a fantastic option for the concentrate lover who's looking for a less labor-intensive, bulky, or easier transportable option for enjoying the best quality concentrates you can get your hands on.
With an internal heat source, so there's no need for a torch, this pen will vaporize your concentrates quickly and easily without much fuss at all. It's a fantastic option for the dab lover on the go!
Have you tried any of these new products? What new product have you been enjoying most? Share your thoughts below!