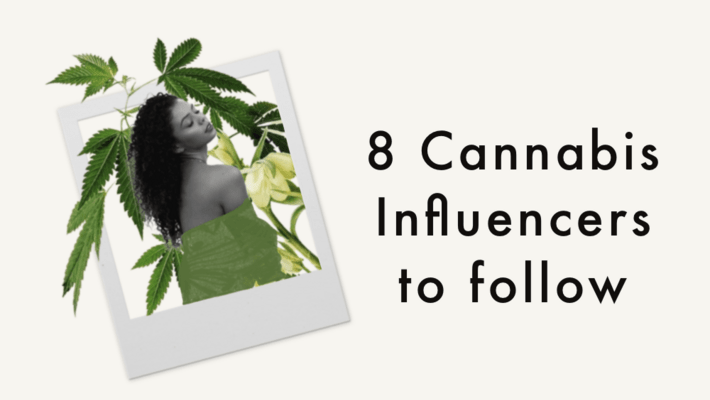 Top 8 Cannabis Influencers You Should Follow
Over the past decade or so, the world has seen an exponential increase in the popularity and significance of social media. According to a January 2019 report from We Are Social, 45% of the world's population currently uses social media, approximately 3.5 billion people. These social media users follow influencers with who they feel like they relate or feel a connection. Influencers are those who have earned a reputation for their extensive expertise and knowledge in a particular field, generating enormous audiences of engaged fanatics by regularly posting about their specific topic on social media. Much of business nowadays is done through social media, so brands love influencers because of their ability to consistently create new, trendy content, as well as encourage their dedicated followers to purchase products they promote. With the cannabis industry's strict advertising laws, the cannabis industry must connect with social media influencers.
Types of Influencers on Instagram

Instagram influencers are typically categorized as either micro- or macro-influencers. Although the definition may differ across the internet, a micro-influencer normally has less than 100,000 followers on social media while a macro-influencer has more than that. Macro-influencers are typically celebrities that offer brands a large, yet engaged following that fits a specific niche and compelling brand collaborations, all thanks to their experience amassing an audience from scratch online. On the other hand, micro-influencers have a smaller reach than their counterparts, but are much more specialized and considered to be more dependable and trustworthy by their exceptionally engaged and loyal followers. With such a committed following, these smaller influencers are more likely to bring qualified leads than macro-influencers, whose audience is not as distinct. It can be quite a challenge to sort through to see who genuinely deserves your follow on social media, which is why we have done the heavy lifting for you; the following is a list of Instagram influencers in the cannabis field who changed the game.
Instagrams to Follow About Cannabis Content
Among one of the few Asian-American cannabis influencers, merrrica strives to normalize marijuana use and end the stigma surrounding it and those who use it, especially for the Asian community where the use of weed is traditionally very taboo. Her videos typically feature other weed influencers, mainly her best friend and roommate, Jennie (@sheflieshigh). Previously a budtender and now a model as well as Instagram influencer, merrrica has a highly entertaining online presence and relatable stoner content.

A seasoned canna-chef that was once dubbed "the Julia Child of Weed" by The Daily Beast, Jeff the 420 Chef rose to fame by using molecular gastronomy and culinary deconstruction to revolutionize the entire marijuana consumption experience. With an Instagram feed filled with enticing photos of his THC-infused food dishes, there's no wonder why cannabis aficionados flock to Jeff the 420 Chef.
The woman behind Blunt Blowin' Mama (BBM) is Shonitria Anthony from Los Angeles, a mother of two and alumna of Columbia School of Journalism. A former editor for Huffington Post, ABC News and Blavity, BBM's Instagram is dedicated to normalizing mothers who choose to medicate with marijuana. BBM's profile highlights not only cannabis use and family but also the current socio-political issues of our time in both a cordial and deliberate manner.

One of the most popular marijuana and CBD influencers on Instagram and YouTube, Koala Puffs consistently stays engaged and in touch on social media with her many loyal followers and even hosts many in-person events to meet and connect with them (pre-pandemic). Her Instagram feed is full of hilarious and relatable stoner content involving everything from vlogs to skits and product reviews that is sure to keep an audience entertained. In addition to Koala Puff's social media presence, she also created her own successful CBD and merchandise lines.
This popular Canadian weed influencer and YouTuber, whose real name is Matt, dishes out weekly educational videos and useful growing advice to assist his audience in successfully developing their own grow operations. With an Instagram profile of beautiful, luscious buds, it's no surprise why Matt has ascended to become one of the most prominent content creators among grow connoisseurs.
As an advocate for CBD, as well as a medical marijuana patient, Whit is also the co-founder of a creative agency specifically geared towards cannabis culture. Her aesthetically pleasing Instagram feed is filled with visually appealing photography and videos of product reviews that are sure to please your eyes.

With a name like this, you already know you can trust Laganja when it comes to cannabis. An outspoken advocate within the marijuana community, Laganja, otherwise known as Jay Jackson, is also a choreographer and a former contestant on RuPaul's Drag Race. This queer cannabis influencer has used her immense social media platform to progress LGBTQ+ rights in the weed industry.
Famous for his roles in stoner comedies, this comedian has a well-known reputation for being passionate about cannabis and a big social media following where he educates his audience of the benefits of marijuana. His love for the plant prompted him to create his own high-end weed company in Canada called Houseplant with his friend and business partner, Evan Goldberg. Aside from being a marijuana entrepreneur and advocate, Rogen also pushes for the expungement of cannabis convictions.
Who is your favorite cannabis influencer in the game right now? Are they listed here? Let us know in the comments below!