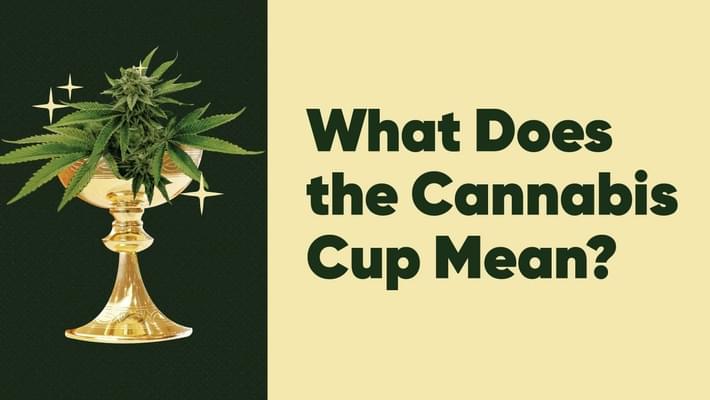 What Does the Cannabis Cup Mean?
If you've been part of the cannabis community for a while, there's a good chance you've at least heard of the Cannabis Cup, but do you know what it is? Let's take a deep dive into what the Cannabis Cup is, how it started, and where it's at now.
What is the Cannabis Cup?

The cannabis cup is the largest marijuana competition in the world. It is called the "Cannabis Cup" for short, but the full title is "The High Times Cannabis Cup." It is managed by the magazine, High Times. Founded in 1974, High Times is a magazine that focuses on cannabis legalization efforts, cannabis culture and other counterculture topics. During these competitions, prestigious cannabis influencers judge various categories of marijuana, ranging from Best Indica Flower to the Best Vape Pens. While it is now a world-renowned competition where the best cannabis in the world can be found, enjoyed and judged, its origins are much humbler.
The Cannabis Cup: Origins
The first Cannabis Cup was held in Amsterdam in 1988 by Steven Hager, who was the editor-in-chief of High Times. He was inspired by California cannabis harvest festivals, where local growers would gather to compare their year's crops. He wanted to create an official cannabis competition where the best of the best were pitted against each other. However, California was still 8 years away from becoming the first state with legalized medical marijuana, he had to look outside the US to plan his event.
While recreational marijuana isn't legal in the Netherlands, their policy toward cannabis and other "vices" is to not prosecute if enjoyed in designated areas. Because of this, Hager made his way to Amsterdam to form the first official Cannabis Cup. In November 1988, above a small bar in Amsterdam, Netherlands, Hager and a select few judges gathered to compare bud from local seed companies. The first cup was awarded to Skunk #1 from Cultivator's Choice. The following years became increasingly more popular and more categories were added to the event. The Amsterdam Cannabis Cup was held for 27 years, with its final competition in 2014 due to legal cannabis locations in the US, growing uncertainty about cannabis laws in the Netherlands, and a police raid on the 2011 Amsterdam Cannabis Cup (no one was arrested but all weed was confiscated. Fortunately, the Cannabis Cup is still going strong in America.
The Cannabis Cup in America
The first Cannabis Cup in America was held in Northern California in 2010. Since then, Cannabis Cups have been held in the Bay Area, Northern California, Southern California, Colorado, Denver, Detroit, Illinois, Oklahoma, Oregon, Michigan, and Seattle. As these competitions first began (like the California 2010 event), many were focused solely on medical marijuana due to legality. However, as more states legalize recreational marijuana, the competition has grown to encompass all types of weed with much larger audiences. These events are also now much more than just a cannabis competition. Concerts, vendors, immersive shows, grow room tours and social events have become big aspects of the Cannabis Cup, depending on the location. Of course, not all of the locations listed above have annual Cannabis Cups -- many states had their first competitions right before COVID-19, which disrupted the growth of the Cannabis Cup. The Cannabis Cup 2021 competitions were only held in Arizona, Northern California, Oklahoma, Massachusetts and Illinois.
The Cannabis Cup Awards

With each passing year, the impact of the event continues to grow and the types of categories increase. The competition categories, competitors and judges all differ based on which Cannabis Cup you attend. The Michigan Cannabis Cup is slighting different than the Denver Cannabis Cup, and so on. However, no matter which location you're at, Cannabis Cup winners usually get massive recognition and increased sales, helping strengthen craft cannabis brands across the world. Let's take a look at what some of the most common awards are and how they are judged.
Popular Cannabis Cup Categories:
Best Indica Flower
Best Sativa Flower
Best Hybrid Flower
Best Sungrown Flower
Best CBD Flower
Best Pre-Roll
Best Edibles: Gummies
Best Edibles: Non-Gummies
Best Edibles: Beverages
Best Vape Pen Cartridge
Best Infused Product
Best Indica Concentrate
Best Sativa Concentrate
Best Hybrid Concentrate
Best Topical
Best Glass
Best Product
How the Cannabis Is Judged:
There have been some very famous Cannabis Cup judges over the years, including Snoop Dogg, Tommy Chong, Wiz Khalifa, Joe Rogan and many others. While there are celebrity judges, a lot of other people get in on the action. High Times uses a unique application process to choose cannabis professionals from around the world (including past winners and runners-up) Professionals from around the world test each of the contestants in a given category and rate them based on individual traits and characteristics. Testing rooms are set up with extreme precision, with aspects such as smell, taste, and visuals closely examined for each contestant.
For 2021, things are being done a little differently, with everyday consumers allowed to purchase testing kits from participating dispensaries and weighing in on the final decisions. The 2021 Cannabis Cup winners will be decided by the people in what are being called the "People's Choice" awards. Check out the High Times Cannabis Cup website for more information on how to get Judge Kits for one of the 2021 Cannabis Cup locations.
What do you know about the Cannabis Cup? Let us know if you've ever been involved and what you think about the whole competition in the comments below!