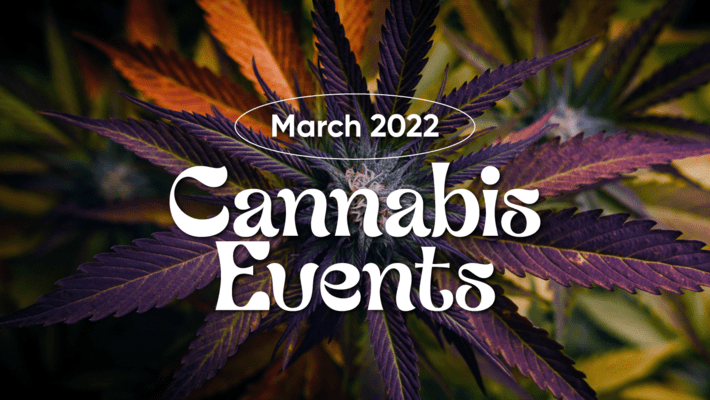 March 2022 Cannabis Events
There's a new March Madness happening this month with all of these events happening within the cannabis industry. Want to find out what's happening? Head to one of these cannabis events to find out.
Since 2014, the New England cannabis industry has called NECANN events home base. By consistently attracting the largest number of Hemp, MMJ and Cannabis industry professionals in the northeast, 2022's event will be the largest and most important event on the east coast. NECANN Massachusetts is THE can't-miss event of the year for cannabis businesses, professionals, entrepreneurs, investors, growers, consumers and patients. Exhibitors are what makes NECANN successful and the organizers pride themselves on helping them achieve high ROI as the primary goal. No matter if you're looking to launch a new business start a new career, promote your existing business, sell product lines, purchase items for your store or grow facility, find investment opportunities or investors - NECANN is the place to be! Network with thousands of industry professionals and experts, and learn about every aspect of the industry at any of their programming tracks and pre-convention workshops. Even better, tickets start at only $30!
Interchange is a two day event where producers, processors and ancillary companies meet with a series of retailers in a 1:1 private setting to convey product offerings with the goal of structuring deals. This process enhances industry-wide productivity and provides an opportunity to foster relationships with like-minded business professionals. There are two Interchange events happening this month. The Oregon Interchange event is scheduled for March 9-10 in Portland, Oregon. Unfortunately, vendor and exhibitor spaces are sold out but there's a waitlist available. Washington Interchange West is happening in Renton, WA and registration is still available here!
The mitten state has officially joined the cannabis map! The Lucky Leaf Expo has finally landed in Detroit. Join them for an in-depth look at the cannabis industry in Michigan and surrounding Midwestern states. Though this event is new to Detroit, you can learn more about new products and learn some new things you didn't know. Early bird tickets are available for only $35!
Now that Oklahoma legalized medical cannabis, legal cannabis is now in full swing in Oklahoma. CannaCon provides an interactive gathering of like-minded professionals uniting leading industry pioneers and entrepreneurs with investors and experts discussing the latest industry trends and developments. Access the next generation of cannabis technology and consumer products while discovering trends in the marketplace of 2022 and the coming years. CannaCon is dedicated to creating and strengthening lifelong partnerships within the cannabis industry. CannaCon's mission is to provide a venue for cannabis businesses, entrepreneurs, investors, and community partners to showcase industry products, experts, and innovations; and to cultivate business values within the cannabis industry through education and responsible community involvement. Tickets start at just $50 and are available now!
Other March Cannabis Events
March 1, 2022:
March 2, 2022:
March 3, 2022:
March 4, 2022:
March 5, 2022:
March 6, 2022:
March 7, 2022:
March 8, 2022:
March 9, 2022:
March 10, 2022:
March 11, 2022:
March 12, 2022:
March 13, 2022:
March 14, 2022:
March 15, 2022:
March 16, 2022:
March 17, 2022:
March 18, 2022:
March 19, 2022:
March 20, 2022:
March 21, 2022:
March 22, 2022:
March 23, 2022:
March 24, 2022:
March 25, 2022:
March 26, 2022:
March 27, 2022:
March 28, 2022:
March 29, 2022:
March 30, 2022:
March 31, 2022:
Did we forget any cannabis events on this list? Will you be checking out any of these cannabis events this month? Let us know in the comments below!