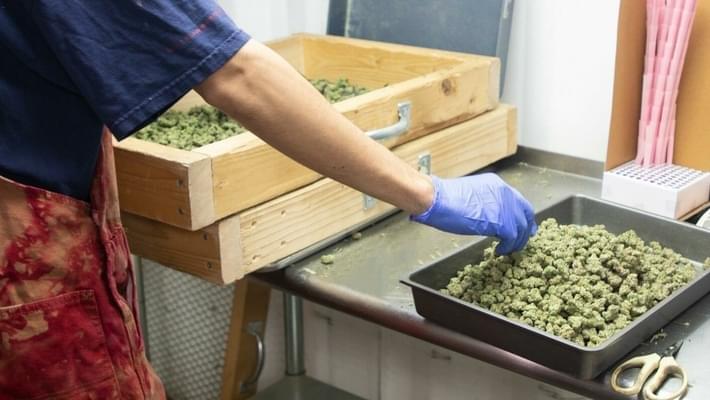 Careers in Cannabis: How to Become a Trimmer
It may sound like a dream for any stoner: get a job in the industry, spend all day long making good bud, and maybe even come to own your own business helping customers get as high as a flock of geese. The question of how to work in the cannabis industry is an ever-growing one, as different companies seek to capitalize on the market by developing new strains, new edibles, and new ways to enjoy everyone's favorite plant. Of all the cannabis careers available, some of the most in-demand are cannabis trimmer positions, which help turn weed from a plant in a pot to a finished product sitting on a shelf, ready to be sold. What should you know about weed trimming jobs?
What's in a Name
As the name suggests, a bud trimmer job description is a person responsible for pruning parts of a marijuana plant so that they can be distributed and sold to customers. Unlike a tree trimmer who removes branches, a bud trimmer professional is less of a blunt instrument and must adhere to precision tasks. As you might guess, they trim off sticks, but they also defoliate plants, weigh bud and record the plant's data, and maintain a clean area so that there are no issues with the product itself.
Generally speaking, trimming jobs are entry level. There are no special skills needed, although previous experience in the cannabis industry or any other type of plant cultivation may go a long way towards helping a person get a job, perform well, and be at the top of the list for promotions. Generally speaking, someone interested in this position needs to be 21 years of age or older, just as they would need to be for other positions in a dispensary. They will need to pass a background check too. A person who wants to get their foot in the door of the cannabis industry should consider a trimming position to get real experience working with professionals, understanding the business, and learning how to turn weed plants into finished products that customers are willing to pay for.
Job Description

Trimmers have to wear many hats in their role, responsible for several tasks depending on a dispensary's needs. In fact, the name itself may vary: some dispensaries employ cultivation technicians instead of trimmers. One primary role is to make cannabis look nicer: after all, nobody wants to buy marijuana full of sticks and stems. Trimming down to the individual nuggets of the plant requires concentration since too much or too little trimming can be harmful. Trimmers also check plants for mold or other complications.
The skills needed for a trimmer are primarily related to dexterity and precision. Fine motor skills are key since a trimmer may use a single tool over the span of the entire day to trip away very small parts of the plant. Concentration, efficiency, and accuracy all help with the tasks. Soft skills, like communication, will help a trimmer deal with co-workers, managers, and customers. Solid knowledge of the botany of marijuana is useful for a position where different strains require different tasks.
Pay Rates
A bud trimmer's salary can be anything from strong to modest, depending on the context. Traveling trimmers will tell anyone willing to listen that they can earn tens of thousands of dollars in the span of just a few months by working dawn-to-dusk on the largest farms; the typical story is that they make this money and then use it to finance a life of travel or art. However, in the increasingly streamlined cannabis industry, vagabond trimmers are less common than salaried professionals.
The median pay of bud trimmers in grow-ops is more limited, typically in the range of $15 to $20 per hour. Like many other entry-level jobs in the 2022 economy, demand is much higher than supply (there are 5 job openings for every 3 available workers in the United States), and a person interested in a bud trimmer position can negotiate a more favorable salary, working hours, and benefits than they could just a year or two ago.
Finding Jobs and Getting A Leg Up

Just as the cannabis industry has sprung up to meet demand, so too have businesses helped dispensaries and grow-ops to find workers. Vangst, an employment agency in Colorado, specifically works with positions in the cannabis industry across the nation; their website features thousands of open positions, including dozens of trimmer positions.
While certification is not necessary for this position, no person can work in the cannabis industry without a Marijuana Enforcement Division (MED) approval. This, in turn, requires having a criminal record with no felonies. While your employer will take care of getting MED approval, check your local division page to make sure that you can qualify for this, as you will not be able to work in the industry without it.
Do you work in the cannabis industry? How have you developed particular skills related to growing or selling marijuana? Let us know in the comments below!
Pictured: Malek's Premium Cannabis