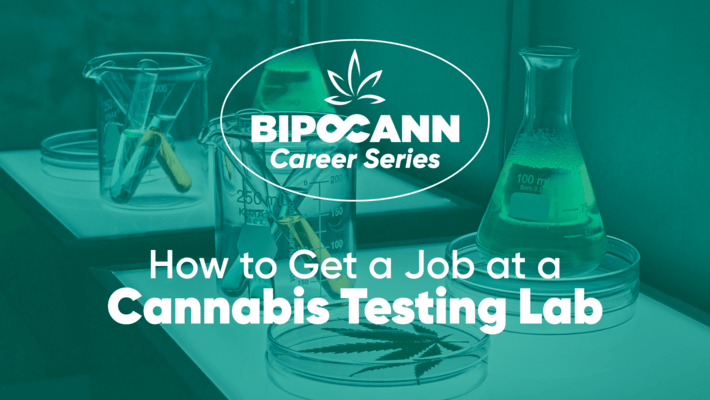 BIPOCANN Career Series: How to Get a Job at a Cannabis Testing Lab
Cannabis is one of the fastest-growing industries in the United States. Among the many career paths in this field, cannabis lab testing job opportunities are on the rise.
According to each state's regulations, before any cannabis reaches a consumer, it must pass stringent laboratory testing. A testing facility checks the cannabis for the potency of components such as cannabinoids and terpenes. It also checks for potentially harmful contaminants like:
Heavy metals
Pesticides
Residual solvents
Microorganisms such as fungi and mold
Lab testing is critical in ensuring that cannabis is safe, high-quality, and accurately labeled for consumption. As legalization expands, there's more demand for lab workers.
When it comes to the cannabis industry, getting into the industry is the hardest part. We've teamed up with BIPOCANN and their network of businesses that are working to shape a more accessible and profitable legal cannabis industry. Here's everything you need to know about career paths in a cannabis testing lab.
Careers in a Cannabis Testing Lab
Are you detail-oriented and interested in cannabis science and technology? A career at a cannabis testing lab might be right for you.
There are several job titles and career paths you can find, including:
Cannabis lab technician
Microbiologist
Analytical chemist
Cannabis lab manager
Chief scientific officer
At Kaycha Labs, the largest cannabis and hemp testing company in the world with 10 laboratories spread across nine states, they often have technician and analyst positions available given their growth. Many of these roles are in new states where the company is opening laboratories.
"From time to time, we have laboratory director positions, quality control/compliance positions, or IT positions open in select markets," says Stephen Goldman, Chief Scientific Officer at Kaycha. "We're happy to get intern positions as much as possible."
What Background Is Required to Work in a Cannabis Testing Lab?
People with scientific education or experience are in demand for cannabis testing lab jobs.
Previous work experience in a laboratory environment can help demonstrate needed skills to potential employers, such as:
Lab equipment operation and maintenance
Analytical techniques
Quality control
Data collection
You're not necessarily out of luck if you lack cannabis experience. At Kaycha, their technician-level candidates are frequently accepted with no cannabis experience.
"They do need to have laboratory experience," states Goldman. "Our analyst positions can come with limited cannabis experience as long as they have lots of previous laboratory experience. Typically, our technician level staff do sample intake and preparation while our analysts do data analysis and review."
How Many Cannabis Testing Lab Jobs Currently Exist?
Cannabis testing lab jobs are a new career path in the legal cannabis industry. It's hard to say precisely how many lab jobs exist, but the number is growing as legalization expands.
According to a report by Grandview Research, the global cannabis testing services market size was valued at $1.1 billion in 2019 and is expected to grow 15.4% annually from 2020 to 2027.
The pace of growth in the cannabis industry is staggering. According to Leafly 2022 Jobs Report, cannabis now supports 428,059 U.S. jobs, up 33% year over year.
Cannabis testing labs will continue to be a critical part of the industry. Public awareness is growing about the medical uses of cannabis, and the expectations for quality and regulation in medical markets necessitate cannabis lab testing.
As the public becomes more away of cases of cannabis contamination, stakeholders and regulators will increasingly rely on testing labs to keep us safe.
What Are the Prerequisites for a Career in a Cannabis Testing Lab?
Do you have a science degree and want to enter the cannabis industry? A testing lab job is an opportunity to combine your love of science with your passion for cannabis.
Certificates, bachelor's degrees, or graduate degrees in chemistry, biology, lab sciences, or engineering are especially desirable to employers.
Getting started in a cannabis testing lab depends on your background and experience. If you're beginning your career, you might start at an assistant or technician level. If you have a degree in science with applicable work experience, you'll be able to start at a higher level of responsibility and pay.
Scientific or technical work in other industries is easily translatable to a career in a cannabis testing lab. Legal cannabis is a new industry, so many people entering the field bring relevant qualifications from other fields, such as:
Chemistry
Biology
Engineering
Environmental science
Food science
Healthcare
Lab science
Pharmaceuticals
Technology
Continues Goldman, "Most of our employees need degrees in a science-related field (bachelors, technical degree, etc.) and some laboratory experience in a regulated laboratory environment. Any cannabis-specific training programs are a real plus."
Growth in Cannabis Testing Careers
Whether starting your career or transitioning from another industry, there are plenty of opportunities to grow in your career in a cannabis testing lab. Jobs can start at the entry-level, all the way up to chief scientific officer.
Here are some examples of job titles and estimated annual salaries for positions in a lab:
Cannabis lab technician: $33,280-$43,680
Microbiologist: $79,800
Analytical chemist: $80,495
Cannabis lab manager: $140,200
Chief scientific officer: $235,000
(Data from the Vangst Cannabis Industry Salary Guide and CannabizTeam 2022 Cannabis Salary Guide)
Day-to-Day Responsibilities of Working in a Cannabis Testing Lab
If you work in a cannabis testing lab, your daily tasks require attention to detail. You'll follow standard operating procedures in the lab for sample handling, conducting tests, maintaining equipment, and record keeping.
Depending on your skills and job level, each day can be different. In a lab like that of Kaycha, samples are checked in and prepared specifically for each test type that's run. "We perform lots of tests," reveals Goldman. "So, this means a lot of time training, a lot of time following standard operating procedures, and a lot of time working on a computer in our Laboratory Information System. Expect team dynamics in a highly regulated environment."
Here are some of the day-to-day responsibilities you may have:
Receive, document, and analyze samples of cannabis and cannabis products
Perform lab testing to measure potency, heavy metals, pesticides, residual solvents, and microorganisms
Use and maintain analytical lab instruments, such as HPLC, ICP, GC-MS, qPCR, and others
Collect, enter, analyze, and document data according to the lab's policy and procedures
Communicate with laboratory clients in writing, electronically, and via phone
Meet deadlines for the testing workload
Order and manage lab supplies
Clean and maintain the lab equipment and environment
Ensure safety guidelines are always followed
Participate in process improvement, quality control, and regulatory compliance activities