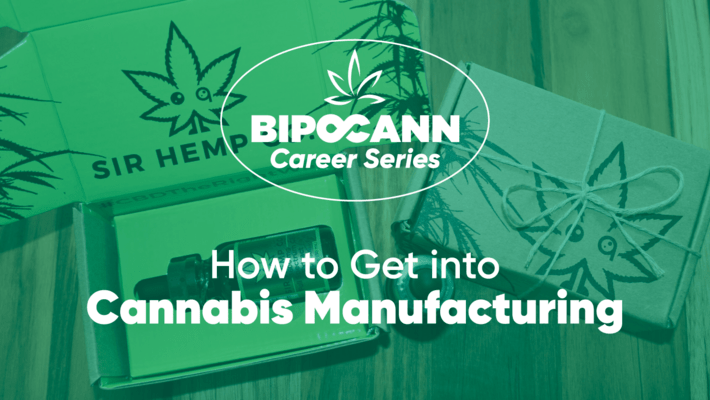 BIPOCANN Career Series: How to Get a Job in Cannabis Manufacturing
In 2021, $25 billion worth of legal cannabis products were sold between adult-use and medical states. All those ganja goodies were produced and packaged by someone in a cannabis manufacturing role!
If you want to enter the cannabis industry, an entry-level job in this sector can help you segway into other roles and departments. If you're already working in manufacturing in another industry but looking to make a career move, those skills and experiences can often be translated into cannabis.
When it comes to the cannabis industry, getting into the industry is the hardest part. We've teamed up with, BIPOCANN, and their network of businesses that are working to shape a more accessible and profitable legal cannabis industry. Here is an overview of opportunities available in cannabis manufacturing and why now is a great time to get into this field!
Types of Cannabis Manufacturing Jobs
There are various cannabis manufacturing jobs available in licensed cannabis facilities. This is the stage of production where cannabis products are packaged and prepared for sale.
Manufacturing jobs within the cannabis industry can vary depending on the products made in a particular facility. For example, manufacturing roles in a flower cultivation facility could be very different from those in a facility that produces edibles or specializes in vape pens. You may want to look for a role with a company that makes the kinds of cannabis products you like to consume personally or aligns with your other passions. For example, if you want to get into the cannabis industry and also like to cook in your free time, you could find an entry-level role in packaging cannabis cookies with an edible brand.
There are also cannabis companies that only produce recreational products, some that only produce medical products, and those that produce both. However, some of the common types of manufacturing jobs available in cannabis include:
Packager
Packagers are responsible for putting cannabis or cannabis-infused products into the containers they'll be sold in. This often involves weighing out flower or counting items in a case, so packagers should have excellent attention to detail. This is typically an hourly position and can be a great opportunity to get started in the industry, even if you don't have previous experience.
Roller
Rollers take the cannabis flower and roll it up into the pre-rolled joints, cones, or hemp blunts you get at the dispensary. Rollers at a commercial facility must be able to roll in large quantities with high levels of consistency between products. At some facilities, rollers could also be responsible for packaging what they roll. This is usually also an hourly position and can be a stepping stone into other roles within a company.
Quality Control Manager
The Quality Control Manager is responsible for ensuring that every product that comes out of the facility meets quality standards and follows production protocols. They'll often pull random samples to test, investigate any customer complaints about product quality, and closely monitor new product lines.
Facility Manager
The Facility Manager handles day-to-day production processes and should have a solid background in project management. They ensure everything is running on time and on budget and are responsible for identifying and solving any inefficiencies in production.
Compliance Manager
The Compliance Manager will ensure all packaging, ingredients, testing, and production processes are compliant. They are responsible for keeping up with regulations and implementing any necessary changes and are often the ones that track products in the seed-to-sale system throughout the manufacturing process.
Director of Research and Development
As the cannabis market matures, we learn more about the plant, and modern technologies evolve, new products will continue to be introduced. So, many large and cutting-edge cannabis brands will have a Director of Research and Development who ideates new products and tests new manufacturing methods.
Director of Manufacturing
The Director of Manufacturing oversees production throughout the facility and the rest of the manufacturing team. They will delegate tasks to managers and report on how the department is doing to the leadership team. This is likely someone who has a degree or experience in this role from another industry.
Prerequisites for Cannabis Manufacturing Jobs
If you're interested in cannabis manufacturing jobs, you may have some questions about what's required to get started. Here are the basics:
Do I need a college degree or certification to work in cannabis manufacturing?
Since cannabis manufacturing is a relatively new industry in most states, many entry-level jobs don't require any previous education or training. However, leadership roles will often require a college degree or certification, and experience in manufacturing or management from another industry is a big plus.
What skills would be helpful to have?
Attention to detail is also crucial in cannabis manufacturing, as each product must be properly packaged and follow all compliance guidelines. If just one product leaves a facility that isn't packaged safely, it can result in fines and damage to the brand's reputation. Multiple infractions can eventually cause the facility to lose its license. So, it's incredibly important that everyone in these kinds of roles is focused, detailed, and aware of all regulations.
Professionals in cannabis manufacturing also need to be able to work at a fast pace and are often encouraged to meet certain production quotas or timelines. If you're able to work efficiently without losing focus on the details and are passionate about the cannabis industry, a job in cannabis manufacturing may be aligned with your skills.
Future Opportunities in Cannabis Manufacturing
Growth in cannabis manufacturing careers is only expected to continue as more states legalize. According to Leafly's 2022 Jobs Report, the top five cannabis job markets in the nation are currently California, Colorado, Michigan, Illinois, and Massachusetts. However, quite a few more states are opening their first adult-use dispensaries within the next year"and brands in these states will need the space and staff to manufacture their products.
Overall, as more cannabis stores open, more cannabis manufacturing facilities are needed to meet the rising demand for cannabis products. For this reason, it's anticipated there will be a steady rise in cannabis manufacturing opportunities over the coming years.