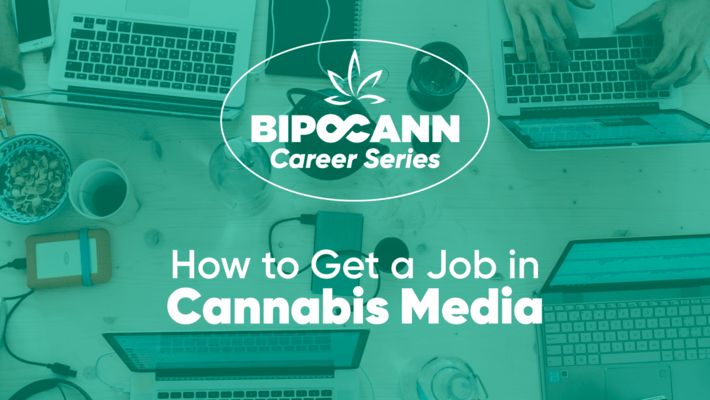 BIPOCANN Career Series: How to Get a Job in Cannabis Media
When it comes to the cannabis industry, getting into the industry is the hardest part. We've teamed up with BIPOCANN and its network of businesses working to shape a more accessible and profitable legal cannabis industry. Here's how you can get a job in cannabis media.
Career Paths in Cannabis Media
Now that 74% of Americans have access to some form of legal cannabis seeing our favorite plant in the press is becoming pretty commonplace.
From driving down the highway and seeing a billboard for the dispensary around the corner to following your favorite flower brand on Instagram and hearing about Biden's recent announcement pardoning cannabis convictions across every major news outlet in the nation, cannabis media is now everywhere -- including the job market.
Types of Cannabis Media Jobs
If you're interested in a career path in cannabis media, there are a few different routes you could take:
Public Relations
Public Relations is a growing field in cannabis due to the heavy restrictions on advertising in the industry. Working with a public relations expert can help brands ensure they are marketing and representing their brand in a way that is safe, compliant, and aligned with consumer preferences. There are now even entire PR agencies and firms dedicated to cannabis brands!
Some typical roles in public relations in the cannabis industry include:
Publicist
Director of Public Relations
Director of Communications
Press Release Writer
Director of Brand Relations
Social and Digital Media
In such a competitive market, many cannabis companies have turned to social media to connect with customers, promote their products, share educational content, and showcase their unique brands. There are cannabis brands that have not only one specific role but entire teams dedicated to social media posting and management.
Here are some typical jobs available in social and digital media in the cannabis industry:
Social Media Coordinator
Social Media Manager
Influencer Coordinator
Creative Director
Media Buyer
Graphic Designer
Photographer
Videographer
Cannabis Influencer
Journalism
Cannabis journalism is so important for many reasons. First, it educates consumers to make more informed decisions about the companies they support and the products they buy. It also keeps cannabis professionals aware of cutting-edge advancements, changing best practices, and hot trends -- with this information, brands can continue to innovate and provide better products and services. Finally, and perhaps most importantly, it provides a platform for both consumers and professionals in the industry to talk about the issues affecting the cannabis industry and how we can work together to improve them.
Typical roles you may be able to find in cannabis journalism include:
Editor
Assistant Editor
Blogger
Copywriter
Reporter
Photographer
Photo Editor
Art Director
Looking for some inspiration? Here's a roundup of our top picks for Cannabis publications on shelves now:
Prerequisites for Cannabis Media Jobs
If you're thinking about starting a career in cannabis media, here are a few questions you may be asking yourself:
Do I need a college degree or certification to work in cannabis media?
This answer will depend on the cannabis media career you are interested in. Since this legal industry is so new, many professionals work in the space without a specific educational background in cannabis. However, a degree in Journalism, Public Relations, Marketing, or Communications is a competitive advantage when applying for jobs in media with a cannabis company.
What previous experience can help you start a career in cannabis consulting?
If you have a background in media, public relations, writing, or marketing in other industries, especially highly-regulated ones such as alcohol or gambling, those skills can easily translate to a career in cannabis media. Lisa Weser, Founder and CEO of Trailblaze, a highly specialized marketing communications practice on a mission to put cannabis brands on the map, took this route into the legal cannabis industry.
"I spent many years at a top PR firm before leaping into the CPG category, where I led U.S. marketing communications at AB InBev (better known as Budweiser) for many years," said Weser. "Noting that 'big beer' and alcohol consumption was declining while the legal cannabis sector was gaining traction, I made a big bet in 2017 and left my job to start my cannabis communications firm. Professional marketing and communications services were and continue to be hard to come by in this industry because most big PR firms have decided not to take on cannabis brands until federal legalization occurs. I knew there was a need for CPG-level communications strategy and execution amongst growing brands in this category, and that's the niche we aim to fill."
If you don't have these previous experiences but want to get your foot in the door, don't be discouraged! There are numerous online certifications, classes, videos, and books you can leverage to learn more about this field and get your break into cannabis media.
For example, before Kaitlin Domangue joined The Green Paper, a cannabis B2B media brand with a newsletter that goes out three times per week to over 20,000 subscribers, she was a freelance copywriter. When her home state of Missouri legalized cannabis in 2018, she knew she had the skills she would need to be a part of the blossoming industry. Here's how she made the shift to cannabis:
"I took a free marketing course and was partnered with a CBD company for a project that needed volunteer content marketing work, and I used that experience to get other cannabis clients. I was very intentional to work only with cannabis companies to establish myself as an expert in the field, and that decision has paid off."
Do you have any advice for those who want to work in cannabis media?
Weser's advice for those interested in becoming a public relations consultant in the cannabis industry?

"Working in public relations within the cannabis industry has some challenges and nuances you won't face in other industries. Oftentimes, the products we represent cannot be sold online, require a medical card to purchase, and are available in only a few states. What's more, sampling products to media or influencers and hosting consumption-friendly events can require a lot of "above and beyond" maneuvering. To do this job, or any job in this industry, you need to believe in the future of this category, have a passion for building it brick by brick, and bring energy and creative problem-solving to the table every day," she said.
Domangue had this advice for those interested in cannabis journalism specifically:
"Just get started. Write something and share it with the world. Make connections on LinkedIn and post every day. LinkedIn has been a vital resource for me for freelance writing. It's also where I connected with the media company that houses The Green Paper! Get your foot in the door and keep pushing it open. Find a niche in cannabis and stick to it. Eventually, you'll find yourself in a great spot!"
What Does A Typical Day Look Like When Working in Cannabis Media?
Your day-to-day working in cannabis media can vary greatly depending on your location, experience level, and industry sector. For example, someone who works at a cannabis PR firm likely spends a lot of their time in meetings with clients, reviewing press releases, and attending industry events. A copywriter at a cannabis magazine might spend most of their day pitching ideas, researching, writing articles, and editing content. On the other hand, a cannabis social media manager will respond to comments and messages, put together content calendars, post to accounts, take photos, monitor what other brands are doing online, and more.
Weser describes a typical "day in the life" of a cannabis PR professional:
"When I'm not traveling, I work from my home office. I have three school-aged children, so I typically hit a 6 AM hot yoga or spinning class so that I'm home to get them up and out the door by 8. I adopted a very high-energy dog during the pandemic, so I take her for a long walk before settling into my office around 9. We have team members and clients on both coasts, so we try to schedule our meetings between 11 and 3 ET to meet in the middle. We meet as a team every Monday morning to walk through the week's priorities, and we do "meeting-free Fridays" to ensure everyone has at least one uninterrupted day for focused work. Because we are a PR agency, most days are a mix of client calls, brainstorms, writing, and pitching. We flow with the news cycle, so no two days are ever the same, and we get particularly busy around the holidays and 4/20."
Domangue at The Green Paper outlined a day in her life as a cannabis journalist:
"Well, I work at home with two kids under five, so it's always crazy! Mondays and Wednesdays are typically pretty busy with meetings, thankfully, my husband also works from home (for FOHSE, the grow light company), so we juggle the kids and calls. My newsletters go out on Tuesdays, Thursdays, and Sundays, so in between meetings and taking care of my kids, I am writing. I usually spend about four hours total on each newsletter! The Green Paper is also releasing educational products, so lately my time has been spent doing that, too! I also spend bursts of time on LinkedIn during the week, usually 10-15 minutes a few times a day spent posting, engaging, etc.!"
Growth in Cannabis Media Careers
The cannabis job market looks at "explosive growth" across the board. Still, Domangue sees "ancillary companies like mine who aren't paying taxes" with the most potential growth within the industry. "Many plant-touching operators are struggling, and it's horrible to see. Regarding career advancement, they often don't have the funds to give adequate raises, but this should change as federal restrictions ease up!"
Weser responded similarly: "There are growth opportunities within every corner of this industry, and I don't think that's changing any time soon. Many people think jobs in this industry are limited to finance or cultivation, but there are so many ancillary services that are understaffed: branding, packaging, graphic design, marketing, events, sales, accounting, legal, etc. My advice is to consider the skills you can offer or develop and find a way to apply them to cannabis. And if the job you want doesn't exist - create it!"
These thoughts align with recent industry projections "while legal cannabis now supports 428,059 jobs, that number is anticipated to increase to as many as 1.75 million jobs across the country once marijuana is legalized nationwide. So, if you're looking to kickstart your career in cannabis media, there's never been a better time to get started!