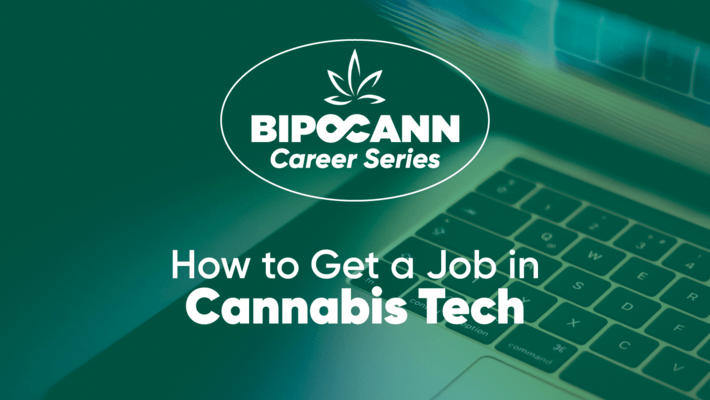 BIPOCANN Career Series: How to Get a Job in Cannabis Tech
Even while cannabis is federally prohibited, the industry is thriving. The average size of cannabis equity capital grew 165% from 2020 to 2021, from $7.5 million to $19.1 million. The total market value of North America's cannabis industry is expected to exceed $35 billion by 2024.
Equity capital growth year over year signals that investors are pumping money into the industry. Confidence in investment firms means advancement in the sector. There are more opportunities for high-paying jobs in cannabis technology.
Cannabis tech companies optimize how marijuana is cultivated, manufactured, sold, and consumed. Read on to learn about technology career paths in cannabis, prerequisites, growth potential, and what you can expect working in the industry.
Careers in Cannabis Tech
Technology has dramatically impacted many aspects of cannabis. While the industry was once decades behind in digitalization compared to other agricultural products (thanks to prohibition), cannabis science and technology solutions are quickly making up for lost time.
Here are five common career paths in cannabis tech.
Retail Software Engineer
The COVID-19 pandemic has played a significant factor in digitalization. Dispensaries were granted "essential business" status, leading operators to lean on digital solutions like online menus and delivery apps. Limited capacity and the demand for minimal contact in retail created an influx of cannabis tech jobs.
There are two significant career paths in retail software development - working directly with a retail company or working in SaaS (software as a service).
Dispensaries need an updated online menu, web content, and app integration. While chains may have a software developer (or development team) on staff, smaller operations use point-of-sale technologies like Dutchie to power their online menu.
As of this writing, the cannabis technology company Dutchie has multiple software engineering and information security jobs available. Dutchie helps dispensaries integrate online menus, delivery, POS, and sales analytics. Cannabis companies of all sizes are taking advantage of this technology.
Cultivation
Cannabis cultivation technology has grown exponentially since states began legalizing the plant. Growers are using advanced systems to cut down on water and energy, optimize environments, and minimize labor expenses. The result is higher yields and a better product. However, there's a new demand for skilled workers to build, integrate, and maintain the technology used in modern cultivation.
Data and Logistics
Every sector of the cannabis industry can benefit from analytics. Massive data sets are incredibly complex and require a professional to organize and manage data. Companies like Eaze employ data scientists that optimize regulatory compliance protocols, supply chain logistics, and user interfaces.
Sales and Marketing CRM
Working with marketing and sales analytics is another cannabis technology job that's in demand. Dispensaries, manufacturers, and wholesale businesses need to optimize sales through custom relationship management (CRM) software. Some companies use SaaS that isn't explicitly designed for cannabis, such as Salesforce or Hubspot, while others use software that specifically handles the industry's requirements.
Cannabis companies need internal technology experts to make sales and marketing decisions backed by data. These platforms require developers to build systems, onboard new clients, stay updated with regulators and create innovative solutions to grow the industry.
Artificial Intelligence and Machine Learning Automation
Artificial intelligence (AI) and machine learning (ML) cannabis tech jobs exist in every category above. For example, predictive models can help cultivators optimize grow environments based on massive data sets. AI helps retailers understand consumer habits. Tedious regulatory tasks are automated to save time.
Background Career Path to Cannabis Technology Jobs
Unlike jobs in retail management or corporate positions, experience in the industry is less critical for cannabis tech. While past industry work is undoubtedly valuable, understanding the technology is more important.
How Many Jobs are in Cannabis Technology?
Technology is becoming more embraced by the cannabis industry. The latest jobs report estimates a total of around 420,000 total employment opportunities, with more being created as new states legalize. Believe it or not, cannabis jobs are outpacing tech and healthcare.
Cannabis technology companies are growing rapidly, and Tyler Bartholomew, CEO of Where's Weed, has seen the boom himself.
"Over the last few years, we have seen technology and data integrations within the cannabis industry blossom into critical business tools used daily by cannabis business owners. Early on, we realized the need for a strong team of developers to help build a suite of tools that work seamlessly with existing technology stack."
Estimating the exact number of cannabis tech jobs is more complicated because some companies have cannabis clients or work indirectly with the industry. Cannabis Training University predicts that 35% of the available jobs are in retail. It's safe to say that tech jobs are less abundant than retail, yet are growing in need.
Prerequisites of the Technology Career Path
Landing a career in cannabis tech will look more like a typical technology job than getting a position as a budtender. However, the two emerging industries have a lot in common. Both are innovative and need people with new ideas. They don't necessarily subscribe to traditional job prerequisites.
Do you Need a College Degree/Certification?
One commonality between cannabis and tech is they're moving away from standard requirements like degrees. Instead, a tech interview is more about demonstrating your understanding of the technologies you'll be working with than your formal education or what you learned in college.
How to Get Started
If you can prove in a technical interview that you're proficient in technology, you've got a chance at scoring a job in cannabis tech.
"Starting from zero experience is challenging but still possible." Where's Weed CEO, Tyler Bartholomew says, "While understanding cannabis pricing or regulatory measures are certainly helpful, having a vast cannabis experience is not necessary for a role at Where's Weed! Instead, we focus on hiring developers that can demonstrate innovation, scalability and team performance!"
Also, just because a job listing says you're not required to have a degree, it doesn't mean you can go into an interview without any preparation. Consider the following:
Research available cannabis tech jobs and the necessary technologies/languages required. For example, many Sales Force Developer jobs are available, and you'll need to learn Java to be considered.
Learn as much as possible about the technology in cannabis. There's a lot of material online for free. (Codeacademy, freeCodeCamp, Skillshare, and many other sites)
Understand what's required for a technical interview. Be prepared to answer challenging questions and use a whiteboard to demonstrate.
Industries That Translate to a Cannabis Career Path
Any prior experience working with technology will be more beneficial than cannabis experience. Let's say you're looking for a Salesforce position at Dutchie. Your experience working with the CMS is valuable.
If the position consists of regulatory procedures, having a general understanding of the process is also helpful. However, teaching a new employee the seed-to-sale protocols is much easier than Java or PHP.
Growth in Cannabis Tech
The implementation of technology is a recent development in the cannabis industry. Not everyone is receptive to it as the industry sports many creatures of habit, but cannabis technology jobs are expected to increase. Tech offers the opportunity to grow once you have your foot in the door.
Front-End Web Developer
Building interfaces and menus are among the responsibilities of entry-level technology positions in cannabis. Many of these jobs are available remotely. You might not even have to live in a state or country where cannabis is legal!
Web developers typically build web-based projects for retail cannabis companies and are heavily design and marketing-forward positions.
IT Professional
Working in IT is also considered an entry-level tech job. Large companies have in-house IT professionals to ensure POS, CMS, and CRM platforms are operational. Day-to-day responsibilities include troubleshooting, cleaning data, implementing new systems, and generating reports.
Software Engineer
A software engineer usually works with back-end, web-based projects rather than what customers or clients will use. A junior software engineer is still an entry-level position in tech but requires proficiency in working with databases, APIs, and more complicated languages like JS, PHP, and JAVA. Senior software engineers may manage a team of developers and require multiple years of experience.
Technology Specialist
A cannabis technology specialist is familiar with the tech used in a specific area of the industry, such as cultivation, extraction, manufacturing, AI, or data science. The position can require you to work with a team of professionals to develop or maintain physical machinery operated with software. In addition, you could build new technology to solve problems in this emerging industry.