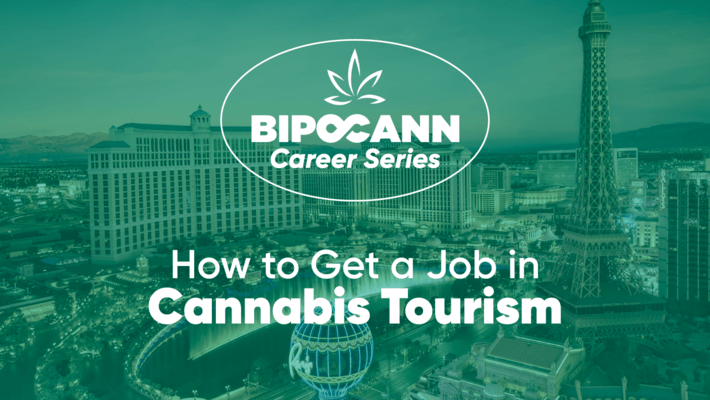 BIPOCANN Career Series: How to Get a Job in Cannabis Tourism
When it comes to the cannabis industry, getting into the industry is the hardest part. We've teamed up with BIPOCANN and their network of businesses that are working to shape a more accessible and profitable legal cannabis industry. Careers in cannabis are expanding as fast as the industry itself. Here are some of the most popular positions in cannabis tourism from our friends at Ganjavacations and HiBnb.
Jobs in Cannabis Tourism
As cultural acceptance of cannabis expands, cannabis tourism is on the rise. An eye-opening 29% of all active leisure travelers are interested in cannabis-related activities on vacation. For those exploring career paths in this industry, it's an exciting time.
"This sector of the industry hasn't even started to establish itself," says Elizabeth Becker, Founder of Hibnb. "Now that weed is legal to buy in so many regions; we must allow people to enjoy it as part of their day-to-day lives, especially for recreational use in social situations."
The COVID pandemic was, by far, the most impactful occurrence of the past several years for tourism in general. However, weed lovers are now proactively seeking out cannabis-friendly accommodations and destinations.
This phenomenon creates opportunities for companies like GanjaVacations to jump in with new products and services. Says Founder and CEO Norman L. Lawrence Jr., "Cannabis tourism will only increase as more states permit adult use, as consumption continues to lose its stigma and the industry is taken over by a younger generation of tourists for whom weed has never been an issue."
Cannabis Tour Guide
Cannabis tours have become a hot trend in destinations with legal adult-use cannabis. These tours may visit natural attractions like waterfalls or scenic drives, or they might take guests to a series of dispensaries or an organic cultivation farm.
There's no limit to the creative ideas. A cannabis tour guide might focus on the ins and outs of the cannabis industry, local attractions, natural landscapes, live music, or artisan food.
Do you need a college degree or certification?
Cannabis tour guides will want relevant knowledge, experience, and connections. For example, farm tour guests would benefit from hearing firsthand perspectives from a guide's cannabis cultivation experience. Wilderness tours come to life with a tour guide's knowledge of the local ecosystem.
What other industries best translate to this role?
For those considering a cannabis tour guide career, guide experience of another kind is an advantage. Depending on the nature of the tour, the helpful experience might include jobs as widely varied as a bus driver, foodie, wilderness guide, comedian, or educator.
Jobs you could transition to beyond this role
Entrepreneurial types can grow a cannabis tour guide career into a thriving business. Tours can be simple or elaborate, with more stops, excursions, and destinations built into the experience. You can grow by creating a brand around a unique niche, audience, or tourist attraction.
Day-to-day responsibilities
Tour guides should be organized, energetic, and knowledgeable about their niche. The day-to-day of a cannabis tour guide varies depending on the type of tour. For example, as a guide for a cannabis-enhanced wilderness excursion, your job would be an outdoor adventure every day. In contrast, a behind-the-scenes educational tour of an extraction lab requires technical knowledge of the manufacturing equipment.
Cannabis Chef
The expansion of cannabis consumption has brought this unique culinary niche into the mainstream. Cannabis chefs work in restaurants, as personal cooks, and as instructors for those learning to make cannabis-infused food at home.
Do you need a college degree or certification?
Cannabis chefs usually have formal culinary arts training, specialized cannabis knowledge, and experience. They may complete additional training to learn the art of cooking with cannabis.
What other industries best translate to this role?
As a cannabis chef, you'll need strong culinary experience. You might be specialized in a specific type of food, such as baking, beverages, or elegant multicourse gourmet meals.
Jobs you could transition to beyond this role
Cannabis chefs can create a unique niche to align with their culinary passions. CBD-infused cocktails, for instance, are growing in popularity. Cannabis chocolatiers create tantalizing infused edibles. Cannabis cooking classes are a growing niche for students learning to cook with cannabis at home.
"Look around. Be curious," suggests Lawrence, Jr. "There are tons of opportunities outside of weed-touching businesses."
Day-to-day responsibilities
The responsibilities of a cannabis chef depend on the setting. Some chefs work in commercial kitchens, whereas others work as personal chefs in private homes. Culinary work involves attention to detail, working under pressure, and excellent multitasking abilities.
Bud and Breakfast Owner/Operator
Tourists looking for 420-friendly lodging will find delight in overnight stays in bud and breakfasts. Amenities can include secluded patios, themed packages, local tours, or a cannabis-infused menu.
"For the near term, most U.S. jobs in cannabis tourism are going to be related to areas such as bud and breakfast accommodations, grow tours, city tours, wellness spas, culinary experiences, and festivals," states Lawrence, Jr. "We also see potential for significant travel related to cannabis weddings."
Do you need a college degree or certification?
Bud and breakfasts are all over the world, owned and operated by people from all walks of life. While there aren't specific requirements to open this type of business, as an owner, you must love people, adapt to guests' schedules, and enjoy curating the environment and experience.
What other industries best translate to this role?
Hospitality is vital in the bud and breakfast business. Any innkeeping or Airbnb experience will go a long way. The culinary experience is an asset in creating a delicious dining experience.
Jobs you could transition to beyond this role
Bud and breakfast operators often add services to attract visitors and get rave reviews from guests. A weekend getaway experience might include cannabis-infused spa packages or local dispensary tours.
Day-to-day responsibilities
As a bud and breakfast owner, you must perform all kinds of duties. Checking in guests is a core part of the job. Daily tasks include cooking and serving breakfast, housekeeping, and bookkeeping.
Cannabis Wedding Planner
It may seem unconventional to incorporate weed at a wedding, but more and more couples are choosing to add cannabis to their nuptial celebrations.
Cannabis wedding planners help couples decide how to incorporate the plant into their wedding day. Pre-ceremony wedding party bonding can include pre-rolls of a special strain. Guests may delight in an elaborate signature CBD-infused beverage at the reception. Gift bags for wedding guests could include specially packaged edibles.
Wedding planners must know local cannabis laws and help plan to keep guests safe, such as offering transportation.
Do you need a college degree or certification?
Wedding planning is a demanding but rewarding field. While there's no one path to becoming a wedding planner, many qualities can make you suitable for the job. As a cannabis wedding planner, you need to be detail-oriented, organized, and able to handle the pressure of making your clients' special day perfect.
What other industries best translate to this role?
Previous wedding or event planning is undoubtedly helpful. Cannabis might be just one option of many offerings on your menu of services. Or cannabis might be the focus of the business. Connections with other companies in the wedding industry (DJs, venues, photographers) can help you maintain a steady stream of clients.
Jobs you could transition to beyond this role
Cannabis wedding planners might choose to offer other services like cannabis-infused catering. Another avenue could be opening a cannabis-friendly event venue for weddings, parties, and meetings.
Day-to-day responsibilities
Wedding planning can be stressful for couples, their families, and anyone involved. As a cannabis wedding planner, you must manage the details, coordinate with vendors, and stay calm under pressure.
Cannabis Yoga Teacher
Yoga is a favorite activity of cannabis consumers looking for mind and body wellness. Increasing numbers of yoga practitioners are drawn to the balancing effects of cannabis to support their practice.
Cannabis yoga teachers guide students through cannabis-supported body movements, breathing exercises, and mindfulness practices. These teachers curate classes to appeal to visitors at destinations, resorts, and wellness retreats.
Do you need a college degree or certification?
Cannabis yoga teachers should become certified as yoga teachers through 200-hour teacher training. Additionally, they may complete additional studies or certifications specific to the combination of cannabis and yoga, such as the certification offered by Ganja Yoga.
What other industries best translate to this role?
Cannabis yoga teachers come from all walks of life. Previous yoga teaching experience easily transfers to cannabis yoga. These teachers have often studied other healing modalities, human anatomy and physiology, natural health, and alternative medicine.
Jobs you could transition to beyond this role
As a cannabis yoga teacher, you can grow your offerings and services, such as one-on-one private yoga lessons, massages, or holistic health coaching. You can offer cannabis yoga events, retreats, and on-site group experiences.
Day-to-day responsibilities
Cannabis yoga teachers plan, promote, and teach cannabis-infused yoga classes to individuals and groups. They're responsible for keeping students safe, especially when cannabis consumption is involved. You might teach at one location or hold classes in different indoor or outdoor destinations.