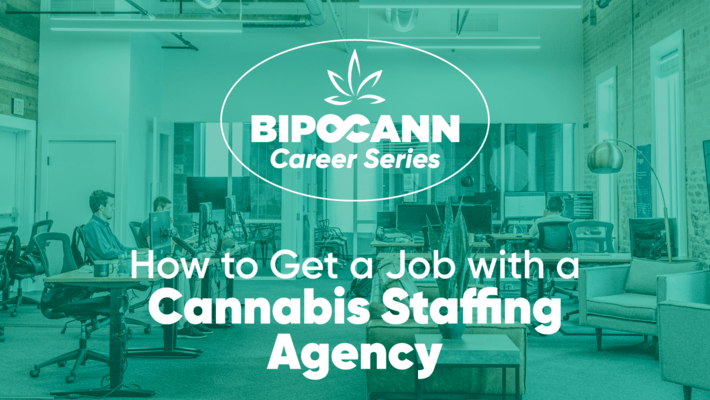 BIPOCANN Career Series: How to Get a Job with a Cannabis Staffing Agency
Are you looking to jump into an exciting and still developing industry with lots of growth potential? Consider the cannabis industry!
As more states legalize cannabis, the industry will only continue to expand. How is it changing? "More regulations, more licenses, more compliance," says Shannon Foreman, CEO of Hemp Temps, a full-service staffing agency specific to cannabis. "The industry has gone from a black market to a fully regulated and taxed beast."
This growth creates an abundance of opportunity and potential for you to get involved in the staffing (or recruiting) side of the industry. When it comes to the cannabis industry, getting into the industry is the hardest part. We've teamed up with BIPOCANN and their network of businesses that are working to shape a more accessible and profitable legal cannabis industry. If you're thinking of becoming a cannabis staffing professional, then read on to see what the career path is like.
Careers in Cannabis Staffing
As a cannabis staffing professional or recruitment specialist, it will be your job to find the best candidates for a cannabis company's open positions.
Most recruiters usually develop an extensive network of both employers and employees. By doing this, you'll know which job vacancies are coming up, when the peak employment times are, and you'll have a list of suitable candidates ready to contact.
You'll help cannabis businesses fill open positions by interviewing potential candidates on behalf of the company or helping them prepare for their interviews.
Recruiters work closely with potential candidates, explaining what's required for a job and assisting them in increasing their chances of getting it. After all, the success of your position depends on how successfully you fill positions for your clients.
Background of the Career Path to Staffing in Cannabis
Suppose you have previous experience working as a staffing consultant or a recruiter in any industry. You'll have an advantage over someone with no experience, maybe even regardless of whether that experience was in the cannabis industry.
How Many Staffing Jobs Exist?
When you look at the cannabis industry and its growth, it's fair to say there are plenty of opportunities in staffing. At the very least, there's a need for staffing. According to the Leafly Jobs Report, the cannabis industry currently supports over 428,000 jobs across the United States.
Even considering the current economic climate, over 107,000 new jobs were created in the cannabis industry, which is nearly unmatched by any industry. That's a 33% increase in jobs year over year!
In 2021, the cannabis industry was responsible for creating 280 new cannabis-related job opportunities every day. No matter how you look at it, there are plenty of opportunities.
Will This Career Path Continue to Grow the Number of Jobs?
With more states on the brink of legalizing cannabis, there will be room for growth and positions to fill.
Even during the recent pandemic, the cannabis industry continued to grow thanks to many states listing cannabis businesses as "essential," allowing them to remain in operation.
Prerequisites for Cannabis Staffing
When you start as a cannabis staffing professional, you have two main choices:
You can work for an agency that already has established clients, or
You can work for yourself as an independent staffing specialist.
Do You Need a College Degree/Certification?
No, you don't necessarily need the accreditation.
But having formal education qualifications in the staffing sector will be an advantage when you're applying for positions. If you can show you have more qualifications than anyone else with similar experience, that could be enough to secure the gig.
How to Get Started
Getting started in cannabis staffing is as easy as applying for a vacant position. However, before you apply to postings, try getting some sort of professional development, certificates, or qualifications in the recruitment sector, as these assets are favorable.
Foreman's advice for joining this industry is to "work hard, show up, and have a great attitude." Do this, and you'll be climbing the cannabis ladder in no time.
Other Industries That Best Translate to Jobs in Cannabis Staffing
Alcohol and tobacco are heavily regulated industries, and experience in either of these sectors will translate well into cannabis. However, relevant experience as a recruiter or headhunter will be an advantage.
Growth in the Cannabis Staffing Career Path
So, what are the different positions you may have in cannabis staffing?
Your career development will depend on how successfully you match potential candidates with employers and the size of the network you build. Being able to quickly find the right candidate for any cannabis position will show others that you're skilled. Your services as a staffing professional could soon become in high demand.
You could begin your career as a recruiting consultant and then progress to a senior consultant or branch manager, depending on the size of the company you work for. As the roll-out of legalized cannabis continues across the country, there will be a lot of opportunities for travel or interstate work.
You could also outgrow your staffing duties and choose to transition to in-house positions like a business strategist, corporate trainer, and even sales.
It's not uncommon for professionals to travel to where the opportunities are. "We hire people every day who just moved to Colorado from non-legalized markets," Foreman reveals. "They are excited to be a part of the industry and want to learn as much as possible, these make the best employees!"
Examples of the Day-To-Day Responsibilities
In cannabis staffing, you'll have various responsibilities depending on the jobs you're recruiting for and the type of candidate that is the best fit. More technical or niche positions might require more work than entry-level positions.
Examples of staffing responsibilities include:
Establish new relationships with clients through marketing and business development
Communicate with existing clients to help strengthen and develop relationships
Learn how clients run their business
Understand client cultures and how any prospective employees would need to operate in that business
Visit clients, conduct meetings, and give presentations
Create job advertisements and promote them on job boards, outlets, etc.
Coach and mentor candidates through the hiring and recruiting processes
Assist candidates with identifying and meeting their goals in the cannabis industry
Check references for candidates before interviewing or hiring
Interview and screen candidates in person, by video calls, or over the phone