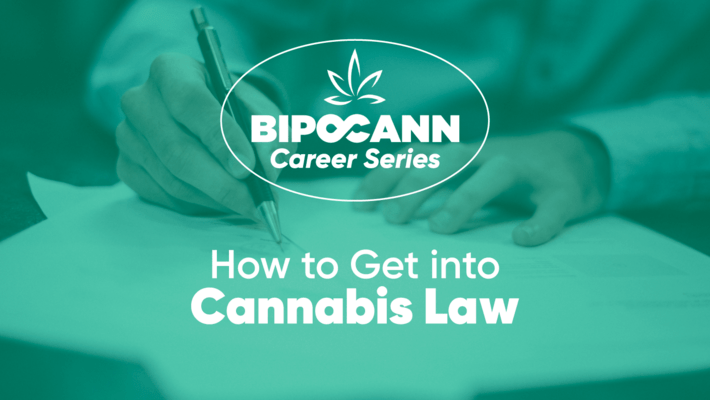 BIPOCANN Career Series: How to Get Into Cannabis Law
When it comes to the cannabis industry, getting into the industry is the hardest part. We've teamed up with BIPOCANN and its network of businesses working to shape a more accessible and profitable legal cannabis industry. Here's how you can get a job in cannabis law.
What the Career Path in Cannabis Law Looks Like
The U.S. cannabis market is expected to grow 21% annually, reaching a whopping $41.5 billion by 2025. This has led to an influx in jobs throughout the cannabis industry, particularly in cannabis law.
After all, as more states legalize medical cannabis for the first time or expand from medical to recreational adult use, more companies are looking to get in on the green rush and need help navigating the murky legal waters. Here's where cannabis law firms come into play and what the career path in this field looks like right now.
What Practice Areas Do Cannabis Law Firms Focus On?
Cannabis law firms focus on one or several areas within the legal cannabis industries, including marijuana, hemp, CBD, and other ancillary businesses.
Since cannabis is a new and emerging market without regulatory oversight at the federal level, companies in this space need legal guidance on various topics to keep them operating. From regulatory compliance to licensing, intellectual property, employment, taxes, financial transactions, mergers and acquisitions, and more, there are so many areas of cannabis law that are also incredibly nuanced from state to state.
While some cannabis firms or lawyers are well-versed in various areas, others choose to specialize in one specific aspect of the industry. Here are just a few of the more in-demand practice areas that cannabis attorneys or cannabis law firms could specialize in:
Administrative Law
Trademark Law
Business Law
Tax Law
Criminal law
Employment Law
What Types of Cannabis Law Jobs Currently Exist?
You could take numerous career paths within the legal field that focuses on the cannabis industry. Now, entire law firms in legal states are dedicated to helping cannabis brands, retailers, and ancillary businesses navigate the market. Here are just some of the most common roles that exist within these cannabis law firms:
Attorney
Paralegal
Legal Secretary
Law Clerk
Legal Analyst
Compliance Specialist
Legal Assistant
Legal Consultant
Prerequisites to Work in Cannabis Law
While prerequisites to work in cannabis law will vary by state and role, here are some general rules of thumb:
Educational Background
Most jobs in a law firm require that a candidate has a bachelor's degree or equivalent, a law degree from a law school accredited by the American Bar Association, and has passed that state's Bar exam.
Since cannabis is a relatively new practice area, most professionals working in the field began their careers in a different practice area and then shifted to cannabis later. Attorneys in other highly regulated industries, such as alcohol or gambling, have a skill set that would be valued in the emerging cannabis industry.
However, now that the medical use of cannabis has been legalized in 39 states and the District of Columbia and adult use has been legalized in 19 states and DC, universities across the nation are starting to add cannabis courses to their curriculum. Northern Michigan University and Syracuse University are two state schools offering a Cannabis Law and Policy Certificate!
Geographic Location
Since cannabis is not legal at the federal level, most jobs in cannabis law currently exist in states with medical or recreational adult use. With the hopes of federal legalization coming soon, there has never been a better time to enter the industry!
Skills and Personality
Because laws and regulations in this industry are quickly changing and best practices are continuously evolving, someone looking to get into cannabis law should be an agile, quick thinker who thrives in fast-paced environments.
Cannabis lawyers also have the power to enact positive change in the industry through reform efforts and decriminalization. These are the people with the ability to uphold the rights of both cannabis companies and consumers, so a true passion for the plant and the industry is a must. Professionals in cannabis law also often speak at industry reform and advocacy events, so if you enjoy public speaking, this may be an excellent fit.
Growth in Cannabis Law Careers
In 2021 the cannabis industry showed an annual job growth rate of 27% or higher for the fifth consecutive year. By comparison, growth in business and financial occupations are expected to grow only 8% over the next ten years.
Cannabis is outpacing nearly every other industry regarding job opportunities, and roles in the legal sector of cannabis are no exception. More legal markets increase demand for passionate, skilled cannabis legal staff that know the ins and outs of licensing and regulations.
There are also many opportunities to move up in cannabis law once you break into the field. For example, you can start as a Legal Clerk or Paralegal to get your foot in the door and make sure it's the right path for you, then continue to work your way up with more schooling and training.
One of the most exciting things about studying cannabis law and starting on this career path is that it presents a rare opportunity for young, eager professionals to get in on a relatively new area of law and pave the way for new businesses to be successful.
Examples of Day-to-Day Responsibilities When Working in Cannabis Law
When working in cannabis law, your day-to-day responsibilities will vary depending on your role, geographic market, practice area, and more. These are just some examples of processes that cannabis law firms might help guide their clients through:
Forming a legal business entity
Obtaining a cannabis license
Drafting, negotiating, and enforcing contracts
Submitting and protecting trademarks and patents
Advising on real estate and lease agreements
Complying with state and local taxes
Maintaining regulatory compliance
Handling employee matters
As legal cannabis continues to develop, so do new and exciting career paths within the industry. If you're detail-oriented, data-driven, and dedicated to ensuring safe business practices in cannabis, a career in cannabis law may be right up your alley!