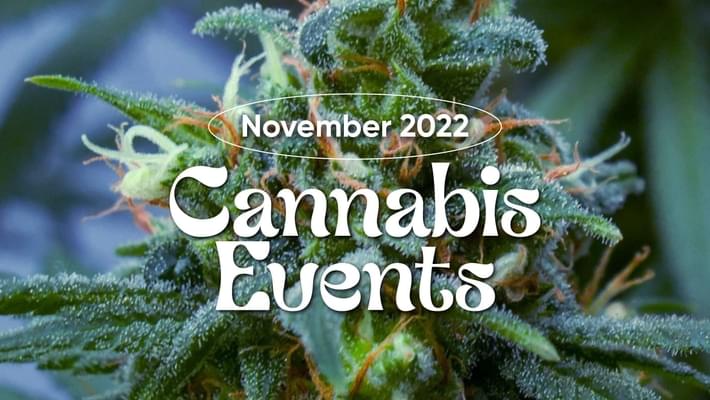 November 2022 Cannabis Events
Croptober has passed, and the holiday season is coming upon us! Now is the time to prep for the long winter by heading out to some awesome cannabis events!
With more than 60 hours of programming across three days, the Black CannaBiz Expo and Conference gives you in-depth insights into all things cannabis from a diverse perspective. Learn everything you need from the basics every aspiring cannabis business owner needs, offerings for cannabis leaders, and the latest ideas and policies that are changing the cannabis landscape. The Black CannaBiz Expo and Conference is sure to help you stay on top of what's to come in cannabis. Tickets start at just $100.
The biggest cannabis event of the year is back! With more than 35,000 attendees from across the U.S., MJBizCon is the best way to make connections all across the cannabis industry. Avoid million-dollar mistakes with your business, fuel your growth with the right vendors, and get fact-based insights on growth projections, regulatory reform, politics and business management. Connect with more than 1400 exhibitors, with insights from more than 180 speakers and all of the networking opportunities. Tickets for MJBizCon start at $349.
November 2022 Cannabis Events
November 1, 2022:
November 2, 2022:
November 3, 2022:
November 4, 2022:
November 5, 2022:
November 6, 2022:
November 7, 2022:
November 8, 2022:
November 9, 2022:
November 10, 2022:
November 11, 2022:
November 12, 2022:
November 13, 2022:
November 14, 2022:
November 15, 2022:
November 16, 2022:
November 17, 2022:
November 18, 2022:
November 19, 2022:
November 20, 2022:
November 21, 2022:
November 22, 2022:
November 23, 2022:
November 25, 2022:
November 26, 2022:
November 27, 2022:
November 28, 2022:
November 29, 2022:
November 30, 2022: