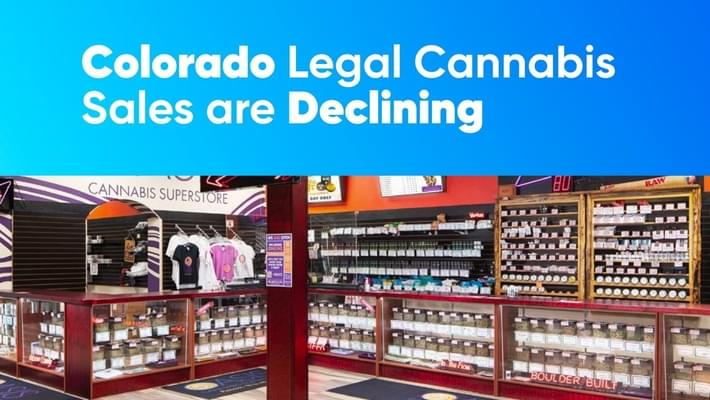 Colorado Legal Cannabis Sales Are Declining
Contrary to what you might expect from the mecca of weed, Colorado's legal cannabis market has shown a steep decline in revenue.
From 2021 to 2022, sales for May alone dropped from $194 million to $147.7 million, tens of millions of dollars in difference. This is concerning for the local industry, which previously had shown continuous growth.
Read on to explore what may be contributing to the decline in cannabis sales.
Why Are Sales Declining for Legal Cannabis in Colorado?
After years of high revenue, the legal cannabis industry's decline is an obvious concern for the mile-high state. Some wonder if this means people are less interested in cannabis. Others fear what this could mean for the future of the industry.
The decline is likely a combination of changes coming together all at once. A perfect storm. Here are five theories about it.
Many States Have Now Legalized
Colorado changed the world when it fully legalized cannabis in 2012, and some believe this might have given a false sense of inflation to the market. In the last decade, Colorado has been one of the only places where you could buy cannabis, attracting attention from visitors worldwide and those who lived in areas where cannabis was illegal.
Now that nearly 40 states and 3 territories have legalized marijuana in some capacity, it makes sense that people in those states no longer have the desire to make the trek to Colorado for their cannabis needs. As states legalize and dispensaries continue popping up, consumers have plenty of options to buy cannabis products close to home. The lure of visiting Colorado just might not be as strong anymore.
The Excitement is Dwindling
While the legalization of cannabis was a landmark moment, a lot has changed in the last decade. With so many states choosing to legalize medical, recreational, or both, it's no longer the exciting new development it once was. Traffic isn't backed up for miles for grand openings anymore. Dispensaries are becoming more commonplace. It's possible that the novelty of legal weed has worn off, further contributing to the decline in sales.
High Taxes

A contributing factor to cannabis legalization in Colorado is that it would be heavily taxed. Current laws allow recreational marijuana to be taxed by up to 15%, which is no small amount given the high prices of products in general. It's possible that this high tax, in combination with job loss and national inflation, are turning people away.
Cheaper Prices
With the growing interest in cannabis production, the prices for consumers have dropped. In fact, in 2022, prices are the lowest they've been since the Colorado Department of Revenue started tracking prices, down by 59%.
Are sales going down? Or is there less revenue because cannabis is now cheaper?
Big Names are Forcing Out Small Brands

The Colorado cannabis market has seen many changes, and there's no denying it's slowly becoming more established. While this might seem like a good thing, it's not necessarily good for some brands.
As multi-state operators (MSOs) and large businesses and investors join the scene, smaller brands are being forced out or acquired by more prominent brands. This is just one more factor that might be influencing sales.
What Does This All Mean?
A decline in sales is influencing the cannabis industry in significant ways. Many companies have closed their doors or scaled back. It's unclear what the future will hold, but as sales numbers decline, we'll likely see more companies change how they do business to accommodate this shift.