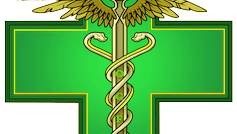 Oregon Issues Medical Marijuana Cards to Patients from Other States
On a yearly basis the state of Oregon issues medical marijuana cards to nearly 600 out of state residents. These people are permitted to use marijuana in the state of Oregon just the same; but some get the card in hopes that it will help them out of trouble if they get caught with marijuana back in their home state. People travel quite a distance to obtain this card and get a little piece of mind.
PORTLAND, Ore. —
Twice in the past two years, Gary Storck has boarded Amtrak's Empire Builder outside his hometown of Madison, Wis., and
headed west to Oregon. The trip takes about 40 hours and costs more than $1,000 - all for something that makes the illegal legal.
He pays a visit to one of the state's 15 or so medical marijuana clinics, fills out an application and sees a doctor. Storck walks out an hour later, the proud holder of an Oregon-issued medical marijuana card. It's a process he'll have to go through each year to keep the card.
Storck, 56, is one of hundreds of out-of-staters who each year make an unusual pilgrimage to Oregon - the only state in the country to issue medical marijuana cards to non-residents.
"It's not a bad place to visit," said Storck, who has used marijuana for four decades to treat glaucoma and other chronic ailments. "It lifts my spirits to be in a place where medical cannabis is legal and life goes on."
Some users of medical marijuana go through the effort to acquire an Oregon card because it allows them to use the drug legally when they're in the state. Others hope it provides some legal protection if they're arrested in a state where medical marijuana is outlawed. Many out-of-staters see an Oregon card as important recognition that their use of the drug is legally recognized somewhere in the United States.
Since June 2010, when the state started issuing cards to non-residents, nearly 600 out-of-staters have traveled here to obtain one, according to the Oregon Health Authority, the agency that oversees the state's medical marijuana program. And while it's a small number compared with those issued to Oregonians - 72,000 in-state residents got cards during that period - it's a notable development for medical marijuana advocates and those who rely on the drug for medication.
People who live in states that outlaw the use of marijuana for medicinal purposes say they're relieved to have their use of the drug legally recognized - even if their home state does not. And for those who travel to Oregon for work or to see friends and family, a state-issued medical marijuana card offers legal protection from arrest and prosecution while here.
The most out-of-state applications for Oregon medical marijuana cards - 309 - came from Washington residents. Idaho came in second with 138, California third with 50.
"There are patients who live in California and Washington or Idaho for that matter ... who travel to Oregon to visit friends and family and ought not be interfered with because they are possessing their medicine," said Leland Berger, a Portland lawyer and medical marijuana advocate.
It was a 2010 case that Berger argued before the Oregon Court of Appeals that ultimately prompted the state to drop residency requirements from its medical marijuana program. The court upheld a California man's conviction for marijuana possession but in its opinion noted that access to medical treatment is a protected right of all citizens traveling from state to state.
The appellate ruling prompted the Oregon Attorney General to issue an opinion clarifying the state's residency requirements for a medical marijuana cards: Anyone can obtain a medical marijuana card in Oregon as long as the person has seen an Oregon-licensed physician who's diagnosed a qualifying illness and suggests marijuana as treatment.
Sixteen states and Washington, D.C., have laws permitting the use of medical marijuana. Five of those states - Michigan, Maine, Montana, Rhode Island and Arizona - will honor Oregon's medical marijuana card.
California, the first state in the country to legalize marijuana for medicinal use, only issues medical marijuana identification cards to California residents. However, state law allows California-licensed doctors to issue recommendations for medical marijuana to out-of-staters. Those recommendations allow a person to legally use the drug in California.
Keith Stroup, an attorney and founder of Norml, a national group that advocates the legalization of marijuana, said he expects most states with medical marijuana programs will eventually drop their residency requirements.
But he and other attorneys and marijuana activists said an Oregon card offers virtually no legal protection outside of Oregon's borders.
"I mean it's significant in the sense that it's progressive and fairly liberal compared to other states. However, it doesn't really provide patients with protection once they leave Oregon," said Kris Hermes, spokesman for Americans for Safe Access, a national group advocating for medical marijuana laws.
Don Skakie, 52, of Renton, Wash., got an Oregon medical marijuana card so he can travel through Oregon without worrying about getting arrested. A union glazier and medical marijuana activist, Skakie is authorized to use medical marijuana in Washington and California, too.
"I have some work down here," he said, referring to Oregon. "But if I was to be pulled over, my Washington authorization would not be recognized as valid. I need to be recognized as a patient so I don't go off to jail."
Skakie, who uses medical marijuana to treat chronic back pain, said even with authorization in three states, he's cautious about traveling with the drug and discreet about using it. He said he recently helped move his sister from California to Missouri.
"I still had my medicine with me on that trip and medicated as I needed to but I was certainly hiding in the shadows and being extremely cautious," he said.
Storck, the medical marijuana activist in Wisconsin, which doesn't have a medical marijuana program, carries his Oregon card with him wherever he goes even though it isn't likely to offer him much legal protection.
"To be able to have at least one state say, `Yes, we accept that you are a patient,' means so much to me," he said. "It was worth the trip to be recognized as a patient. I have been fighting my whole entire adult life for my medicine. My own home state, where I was born, won't recognize that."
A map of Oregon hangs in his home, a reminder that his marijuana use is legal here.
"I am really thankful to Oregon," Storck said. "I am legal in every inch of that state and that is a beautiful thought for me."
---
Information from: The Oregonian, http://www.oregonlive.com