Marijuana Advocacy Group Places Pro-Pot Billboard Outside Denver Broncos Stadium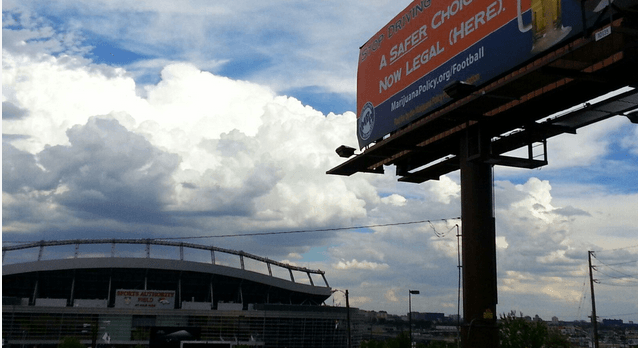 Got a pro-pot billboard outside your football stadium? The people at Marijuana Policy think it would be a lot cooler if you did.
The pro-pot advocacy group has continued its tactic of advertising outside popular American sporting events by purchasing ad space on a billboard outside Sports Authority Field at Mile High (how appropriate).
Up and ready for the Denver Broncos' season opener against the Baltimore Ravens, the billboard wags a finger at the NFL for "driving players to drink." The advertisement was picked up by Sean Newell of Deadspin (via USA Today and Cover32.com).
The group reportedly shelled out $5,000 for ad space, and the billboard is located a block west of the stadium.
Of course, cannabis is now legal on the state level in Colorado (and Washington) after the state voted to legalize recreational use for the public during the 2012 election cycle. Just last week, U.S. Attorney General Eric Holder also said the federal government won't interfere with the state laws legalizing pot.
Marijuana Policy spokesman Mason Tvert alleges that the NFL hypocritically allows players to abuse alcohol while unfairly banning marijuana use.

"NFL players are being told that they can go out and get completely drunk, but face no punishment from the leagues," says Tvert. "But if a player gets caught using marijuana, they could be fined hundreds of thousands of dollars, forced to sit out games and deemed a troublemaker."

This isn't the advocacy group's first shot at reaching sports fans with its pro-pot message. Marijuana Policy attempted to air a promotional video at Indianapolis Motor Speedway during the Brickyard 400 this July, but had their ad pulled before the race began.
The spot was titled "New Beer," and touted the advantages of smoking marijuana over drinking booze.
So there you have it—another major sporting event, another appearance from the pro-marijuana movement.