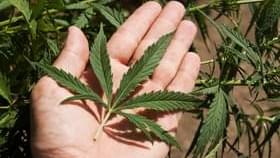 NFL seeks right answer for marijuana use
Marijuana is casting an ever-thickening haze across NFL locker rooms, and it's not simply because more players are using it.
As attitudes toward the drug soften, and science slowly teases out marijuana's possible benefits for concussions and other injuries, the NFL is reaching a critical point in navigating its tenuous relationship with what is recognized as the analgesic of choice for many of its players.
"It's not, let's go smoke a joint," retired NFL defensive lineman Marvin Washington said. "It's, what if you could take something that helps you heal faster from a concussion, that prevents your equilibrium from being off for two weeks and your eyesight for being off for four weeks?"