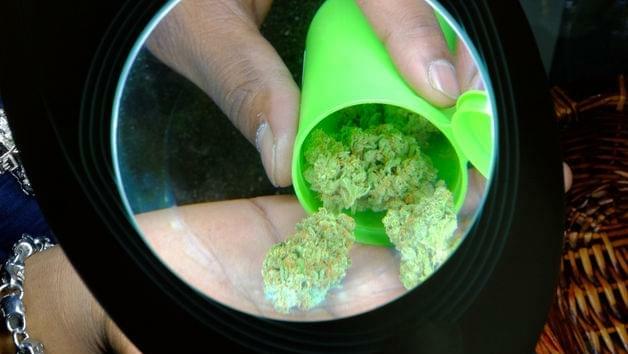 Colorado's Legalized Pot Has U.S. Governors Curious
Photographer: Matthew Staver/Bloomberg
Colorado Democrat John Hickenlooper has a firm answer to other U.S. governors asking him about marijuana as source of revenue: Just say no.
Hickenlooper said yesterday that about a half-dozen called or asked him at this weekend's National Governors Association meeting in Washington about his state's experience legalizing recreational pot. They want to know about the potential to collect money and avoid the costs of enforcement and incarceration, he said.
Colorado projected last week that sales would generate more than $100 million a year toward a general fund of about $9 billion. But Hickenlooper, who opposed legalizing marijuana, said he's telling fellow governors that he's not counting on it to lower other taxes or for spending -- and that they shouldn't, either.
"It's not a panacea," Hickenlooper, 62, said in an interview. "It's not going to solve your revenue problems."
The movement to bring pot out of the shadows and onto the tax rolls reflects its steady presence in U.S. life. Thirty-eight percent of Americans acknowledge having tried marijuana, compared with 33 percent in 1985, according to a Gallup poll conducted in July. With its widespread familiarity, and with prisons and jails strained by large populations of nonviolent criminals, above-board pot presents possibilities.
New Attraction
Colorado's numbers "opened a lot of eyes," Rhode Island Governor Lincoln Chafee, a Democrat, said in an interview. He said Colorado's fiscal forecast fostered a discussion about whether to "regulate it and tax it in these tough times."
Chafee, who previously served as a Republican U.S. senator, said the ill effects of the long-running fight against drugs should hasten discussion about new approaches worldwide. He said legalization measures have been proposed in Rhode Island and didn't rule out signing one.
"We'll see how these bills come out of the legislature," he said.
Colorado and Washington became the first two states to legalize recreational pot use after voters approved it in 2012. Sales in Colorado started Jan. 1 for those 21 and older, and Washington retailers are expected to start this year.
Hickenlooper didn't identify which governors approached him, and most who were asked about whether their state would be inclined to follow Colorado's lead said no.
Watching, Waiting
"I don't think that's going to happen in Kentucky any time soon," said Governor Steven Beshear, a two-term Democrat. He said while there has been discussion about medical marijuana, more research is needed.
"I don't see any groundswell of support for legalizing and therefore taxing," Connecticut Governor Dannel Malloy, a Democrat, said in an interview.
North Dakota Governor Jack Dalrymple, a Republican, said he didn't foresee legalization soon.
"Everybody is watching to see how it settles out in Colorado," he said. "But you never know."
Maryland also has had legalization bills introduced. Governor Martin O'Malley, a Democrat and potential presidential candidate in 2016, said he was opposed, saying it could keep residents from receiving federal jobs, a pillar of the state's economy.
"I don't think this would be a good issue for us to be a laboratory of democracy on," he said. "I don't believe we should be a state that's experimenting on this one."
No Crime
Fifteen states, including California and Connecticut, have already lifted criminal penalties for possession of small amounts of the drug, according to the Washington-based National Organization for the Reform of Marijuana Laws, which advocates legalization.
Possession and sale remain illegal under federal law. In August, the U.S. Justice Department said it wouldn't challenge the Washington state and Colorado measures, saying it would focus federal prosecutions on organized crime, distribution to minors and transportation across state lines.
In an interview with the New Yorker magazine published last month, President Barack Obama, who has acknowledged smoking pot in his youth -- his Hawaii friends called themselves the Choom Gang -- said it was important that the legalization be allowed to proceed in Colorado and Washington.
Advocates are pushing for legalization through legislatures or ballot campaigns in at least a dozen states, including Alaska, Oregon, and California, over the next three years, according to the Marijuana Policy Project, which is backing the change.
Hickenlooper said legalization is "one of the great social experiments of the 21st century" and a response to a failed "war on drugs."
Still, the governor said it makes him nervous to have government promoting vices such as gambling and drugs.
"I urge caution," Hickenlooper said. "The jury is out on this."