Opinion To legalize or not: Where do the presidential candidates stand on marijuana?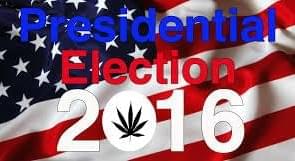 Published on Apr 10, 2016
With Obama finishing his last year in office, some expect him to act on marijuana's illegal status in some way, however in the past he has made it clear that he wants more reserach and more state support. Many states have legalized some form of cannabis, so when a new president steps in, he or she will will have the power to further legalize and regulate, or begin tearing legal marijuana down from the seams.
Bernie Sanders has shown by far the most support for marijuana and even introduced a bill that would completely remove cannabis from the Controlled Substance act. He believes states should be able to legalize and regulate in the same manner as alcohol.
Hillary Clinton primarily wants to reschedule marijuana down to schedule II so further research and testing can be done to examine the effects and medicinal value. She has said she supports state's right to legalize adult recreational use, but she feels more questions still need answered.
Ted Cruz has previously called out Obama's position to ignore federal law and allow states to legalize, despite later saying he would support state's rights. Cruz is personally opposed to legalizing marijuana.
John Kasich has historically been against medical marijuana, but given the growing support, he says he's open to it. Recreational marijuana on the other hand is not in Kasich's plan, as he plans to, as president, "lead a significant campaign down at the grass roots level to stomp these drugs out of our country."
Donald Trump says he is "100%" in favor of medical marijuana, but he is still unsure of recreational legalization. Trump also chooses to support state's rights.