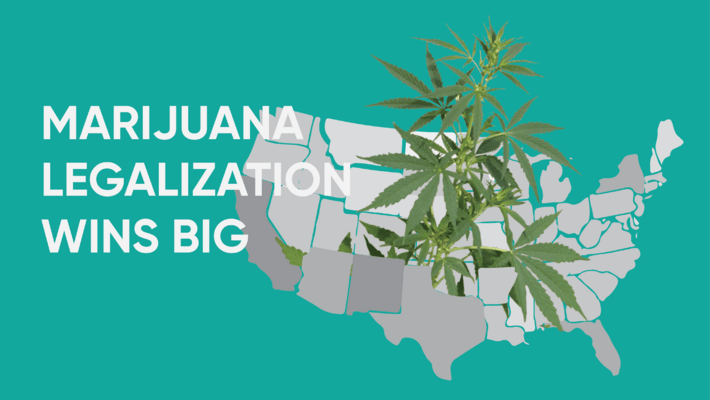 2020 Election Results: Marijuana Legalization Wins Big 
The 2020 Election was nothing like we've ever seen before, politics-wise. While we still sit and wait for election officials to finalize the "big decision", many smaller statewide ballot measures have officially passed. Who are we calling the biggest winner of the night? Marijuana legalization and drug decriminalization.

In a sweeping victory of five different states, recreational or medical marijuana will soon be legal in Arizona, Mississippi, Montana, New Jersey and South Dakota. Additionally, voters in Oregon and Washington, D.C. passed drug decriminalization measures and even Psilocybin for medical purposes.

Of course, if you live in any of those states, that does not mean you should roll up a joint and take a walk around the block today. (Actually, don't do that even if marijuana is already legal where you live.) Let's take a closer look at how legalization will roll out in each of these new states:

After unsuccessfully attempting to pass adult-use marijuana in the 2018 election, Arizona Proposition 207 passed with 60% of voters saying yes on the ballot measures.
Proposition 207 - Recreational Marijuana
Proposition 207, also known as the Safe and Smart Act, allows limited marijuana possession, use and cultivation for adults 21 and over. Despite legalization, this proposition bans smoking marijuana in public. Furthermore, it imposes a 16% excise tax on marijuana sales to fund public programs and allows local authorities across the state to decide local licensing guidelines. Additionally, it allows for the expungement of marijuana offenses on a person's criminal record.

So you're probably wondering, when can I legally buy weed in Arizona? Well, Prop 207 requires state officials to establish regulations as soon as April 5, 2021, which will allow for the state to pass out adult-use licenses to dispensaries. The state will mostly license current medical dispensaries but will grant 26 additional social equity adult-use retail marijuana licenses for new recreational dispensaries.


Two ballot initiatives led by New Approach Montana passed with 57% of voters saying "yes" to legalize recreational-use marijuana for adults in the state.
Initiative 190 - Recreational Marijuana
This initiative legalized the possession and use of limited amounts of marijuana for adults over the age of 21. This measure requires the Montana Department of Revenue to regulate the cultivation, transportation and sales of marijuana and other THC-infused products and requires labs to test products for potency. Additionally, it establishes a 20% tax on recreational marijuana, with 10.5% of the funds going to the state general fund and the rest for substance-abuse treatment, veteran's services, healthcare costs and more.

Beginning at 12:01 on January 1, 2021, Montana residents can possess, use and grow marijuana. Unfortunately, recreational sales won't start until January 2022. This initiative also institutes a one-year moratorium on licenses for out-of-state companies, so there won't be any new dispensaries for a while. Finally, Initiative 190 also expunges non-violent cannabis-related offenses from one's record.

With 67% public approval, last night New Jersey voters passed recreational marijuana for adults over the age of 21.
Public Question 1 - Recreational Marijuana
In addition to passing recreational adult-use marijuana, this amendment designates the Cannabis Regulatory Commission to oversee the new adult cannabis market. The state legislature still has to draft and implement legislation following voter sentiments, so there are still many unanswered questions, like possession limits and possible record expungements. No matter what, once the clock hits midnight on January 1, 2021 cannabis will be legal for anyone 21 and over.

New Jersey residents don't yet know where they can buy legal marijuana, but they will be subject to the typical state sales tax of 6.625%. Additionally, local governments could tack on a 2% sales tax, or opt-out of the program completely if they want.

South Dakota made history last night as the first U.S. state to legalize both medical and recreational marijuana at the same time. Ballot Measure 26 passed medical marijuana with 69% support from the public, while Amendment A legalized recreational marijuana with a narrower victory of only 53%. Luckily both of these measures passed, or else the state's conservative legislature would've likely dismantled a medical-use only initiative.
Measure 26 - Medical Marijuana
No later than July 1, 2021, South Dakota must accept patients in the medical marijuana program. Moreover, on that day the state can issue a temporary med card and the Department of Health has 140 days to issue permanent cards. Medical marijuana patients can possess up to three ounces of cannabis and an unlimited number of plants. Additionally, localities cannot tax medical marijuana patients or ban medical dispensaries.

South Dakota medical marijuana qualifying conditions
Initiative 26 allows for a wide range of conditions to apply for a medical marijuana card, including "those with a chronic or debilitating disease or medical condition or its treatment that produces one or more of the following:
Cachexia or wasting syndrome
Severe, debilitating pain
Severe nausea
Seizures
Severe and persistent muscle spasms, including those characteristics of multiple sclerosis
Amendment A - Recreational Marijuana
Starting on July 1, 2021, any adult over 21 in South Dakota will legally be able to possess up to one ounce of cannabis, 8 grams of concentrates or grow 3 plants per person (with a limit of 6 plants in each household). Of course, buying recreational cannabis will take much more time as the Department of Revenue has until April 2022 to craft rules and regulations for the adult-use program, but we do know that the state will tax recreational marijuana at 15%. Equally important is that towns can prohibit adult-use stores within the state and could potentially cap the number of adult-use licenses issued.

Historically, Mississippi has a reputation of being one of the most hostile states toward cannabis users and sellers. Nonetheless, voters turned out for marijuana with 68% voting "yes" to legalize medical marijuana.
Initiative 65 - Medical Marijuana
Mississippi voters got the chance to choose how the state would begin licensing measures for medical marijuana dispensaries, with 74% supporting Initiative 65. This initiative proposes to amend the Mississippi Constitution to allow qualified patients with debilitating medical conditions to use medical marijuana and requires the Mississippi State Department of Health to regulate and establish provisions. Moreover, medical marijuana would only be available at specially licensed treatment centers and Mississippi-licensed physicians must certify medical patients.

Mississippi is still in the early stages of passing medical marijuana, so it will be months before patients in Mississippi can possess medical marijuana in the state. Since the state has yet to create regulations to license growers and dispensaries, patients must wait until July 2021 to apply for medical marijuana cards. Subsequently, the Department of Health must issue MMJ cards by August 15, but products won't be available for purchase until later in 2021.

Mississippi Medical Marijuana Qualifying Conditions
22 medical conditions qualify for treatment under Initiative 65, including:
cancer
epilepsy or other seizure disorder
Parkinson's disease
Huntington's disease
muscular dystrophy
cachexia
post-traumatic stress disorder (PTSD)
HIV/AIDS
chronic or debilitating pain
amyotrophic lateral sclerosis (ALS)
glaucoma
agitation of dementias
Crohn's disease
ulcerative colitis
sickle-cell anemia
autism with aggressive or self-injurious behaviors
pain refractory to appropriate opioid management
spinal cord disease or severe injury
intractable nausea
severe muscle spasticity
any medical condition for which a physician believes the benefits of using medical marijuana would reasonably outweigh potential health risks
Other Drug Wins in Washington, DC & Oregon
Besides marijuana's big election night, other drugs, including psilocybin, also saw big steps forward in the election.
Washington, DC: Initiative 81 - Psychedelic Drug Reform
Last night DC voters passed 76-23, the Entheogenic Plants and Fungus Policy Act of 2020, making certain psychedelic drugs the "lowest enforcement priority" with the Metro Police Department. It is important to note that Initiative 81 does not change the legal status of these drugs or alter existing penalties, but rather makes them less of a priority with the police. For instance, if a DC police officer saw someone speeding in their car and you growing magic mushrooms in your backyard. He should first attend to the speeding offense, then come back to attend to the drug offense. In particular, plants can contain:
Ibogaine
DMT (Dimethyltryptamine)
Mescaline
Psilocybin
Psilocyn
Oregon: Measures 109 and 110 - Psychedelics and Drug Decriminalization
Oregon Measure 109 passed with 59% support on Tuesday, allowing advanced psychedelic medicine and research. Additionally, Measure 110 passed with 63% support to decriminalize all drugs within the state. Measure 109's passage would create a program and screening process that provided prescription psilocybin to individuals over 21. Moreover, the measure requires a two-year development period for the program.

As you can see, Election Night 2020 brought about a huge win for the cannabis and drug industries. Last night's results mean that now 1 in 3 Americans live in a state where recreational marijuana is legal for adults over 21 years of age. While we might be waiting to hear the results of different bigger races on the ballot, this could mean exciting news for marijuana policies at the federal level in the future.
Will all 50 states eventually legalize marijuana? Let us know what you think in the comments below!