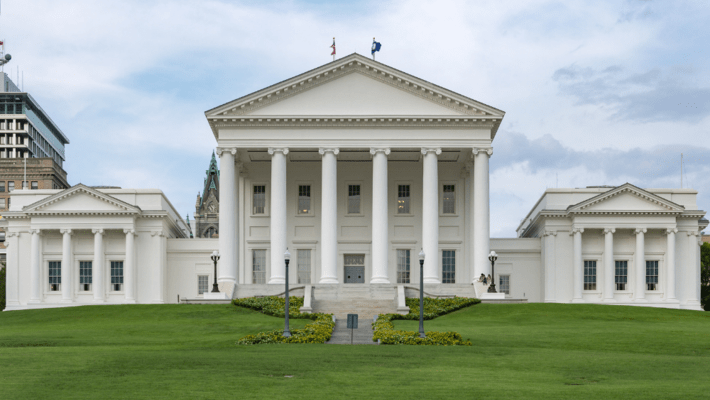 Will Virginia be the Next State to Legalize Marijuana?
Virginia Marijuana Laws

Virginia marijuana decriminalization began in 2017 when the Commonwealth passed a law that provided access to tetrahydrocannabinol acid (THC-A) and cannabidiol (CBD) for certain patients suffering from intractable epilepsy. An updated bill soon followed in 2018 that allowed "for the use of cannabidiol (CBD) oil or THC-A oil for the treatment or to alleviate the symptoms of any diagnosed condition or disease determined by the practitioner to benefit from such use."
The bill has continued to develop over the past two years to include tetrahydrocannabinol (THC) in extracts (maximum 10%) used for medical purposes. As it stands currently, cannabis extracts in the form of tinctures, oils, gels, etc. are legal for medical use, but marijuana flower is not.
Last year, Governor Ralph Northam signed SB 2, which decriminalized minor possession of marijuana and reduced any penalties for that possession to a civil penalty of no more than $25. The previous statute imposed a maximum fine of $500 and a maximum 30-day jail sentence for a first offense, with subsequent offenses submitted as a Class 1 misdemeanor.
Virginia Marijuana Legalization

On November 16, 2020, Governor Northam released the following statement from his office in the capital of Richmond: "It's time to legalize marijuana in Virginia. Our Commonwealth has an opportunity to be the first state in the South to take this step, and we will lead with a focus on equity, public health and public safety. I look forward to working with the General Assembly to get this right."
Following research and recommendations by a legislative working group, Senators Adam Ebbin (30th District and the submitter of SB 2) and Louise Lucas (18th District) submitted SB 1406 with the goal of legalizing and regulating cannabis. The Virginia marijuana bill has numerous components. On January 29, 2021, Democratic Senator Scott Surovell noted during a Senate Judiciary subcommittee meeting, "This thing is a 1,000-pound monster with tentacles that reach everywhere." At the same time, the House of Delegates has the opportunity to pass HB 2312, which would also legalize cannabis for recreational use. While this may seem complicated to have two different bills voting at the same time, if both pass the differences will likely be worked out by committees later.
Legal Cannabis in the Old Dominion

Key to the legislation is a racial justice element that seeks to address the disproportionate enforcement of marijuana laws on minority communities and budgets stressed by a lack of funds due primarily to the ongoing pandemic. Here are several of the guidelines and administrative issues that Virginia's State Legislature is grappling with as it attempts to pass the legislation before the current session ends on February 11.
Legal sales by licensed people 21 and older would begin on Jan. 1, 2024.
Licenses fall into five categories: Cultivation, Processing, Distribution/Wholesale, Retail and Testing. People could hold licenses from multiple categories with some exceptions.
Adult-use possession limits would be one ounce of plant material. Possession of more than one ounce but up to five pounds of marijuana would be a civil penalty punishable by a $25 fine.
Legalizes smokable hemp and hemp testing lab licenses established.
Establish a new and independent regulatory body for marijuana called the Virginia Cannabis Authority to oversee the state's industry.
There will be a 21% tax on marijuana sales and local authorities may add an additional 3% tax on retailers. Existing state sales taxes would also apply on purchases equal to a total potential 30% tax rate on cannabis.
An undetermined amount of revenue will go to public health programs, pre-kindergarten programs for at-risk youth, a Cannabis Equity Reinvestment Fund and substance misuse and treatment programs.
Expungement: Related Senate Bill 1372 and accompanying House Bill 2113 establishes a process for the automatic expungement of past criminal records for certain marijuana convictions. The Courts of Justice approved the House Bill and Appropriations Committees and is next. The Senate version passed the Judiciary Committee and now awaits approval from the Senate Finance Committee.
Establishes a working group to collect data on "the use and misuse of marijuana in order to determine appropriate policies and programs to promote public health and safety". The secretaries of Agriculture and Forestry, Health and Human Resources and Public Safety and Homeland Security would be part of the group. Their report and recommendations are due by November 1, 2021.
As mentioned above, Northam is seeking to expunge marijuana-related offenses, which will be automatic for misdemeanor marijuana convictions. For felony convictions, individuals will be able to petition for expungement and/or sentence reduction. Additionally, social equity for communities that have suffered most in the War on Drugs will be facilitated by the creation of a Cannabis Equity Reinvestment Board and a Virginia Cannabis Equity Business Loan Fund. Virginia citizens who qualify as social equity applicants would be eligible for low- or no-interest loans for their businesses.
Will Virginia Legalize Marijuana in 2021?
All signs point to the fact that Virginia will indeed legalize marijuana! After a historic vote, both the Virginia House of Delegates and Senate voted to pass their respective bills, HB 2312 and SB 1405. The next step is for Governor Northam to sign the resulting bills to pass into law, which will likely happen given his previous comments. Unfortunately, locals and visitors alike will have to wait until 2024 for the market to open. Until then, stay tuned for more updates!
What are your thoughts on Virginia legalizing marijuana, do you think it will happen? Let us know in the comments below!