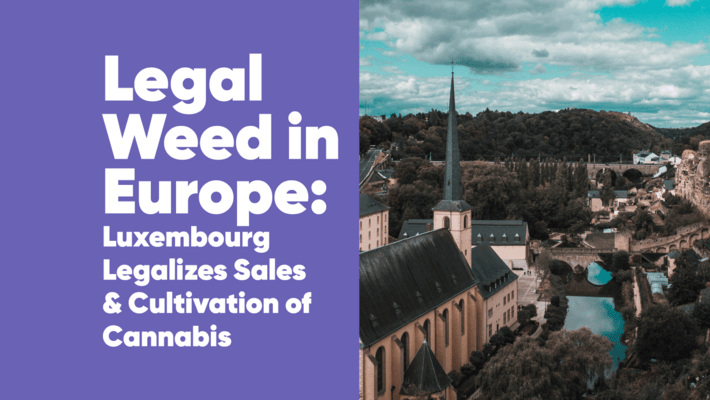 Legal Weed in Europe: Luxembourg Legalizes Cultivation and Sales of Cannabis
Cannabis in the United States has been a continuous topic for the last several decades, but the popular opinion is quickly changing to favor full legalization. We celebrate new pro-cannabis laws every year, but what about in other parts of the world? Today, we have reason to celebrate legalization in a European country! The government of Luxembourg announced that adults over 18 would soon be able to cultivate and smoke their own cannabis products, making it the first country in Europe to officially do so.
A Brief Sketch of Luxembourg

Luxembourg is a small country in northwestern Europe, bordered by France, Germany, and Belgium. It has a population of roughly 640,000 and is one of the smallest countries in the world, covering less than 1,000 square miles (smaller than Rhode Island). Luxembourg was officially founded in 1815 but has remained a distinctly autonomous political region since the 10th century. The medieval-styled city of Luxembourg is both the country's capital and the largest city with roughly 77,000. It is a country of rich history and heritage, owing a lot of its culture, architecture, and political climate to its Saxon and Germanic past. The land itself is defined by rolling hills, rich green forests, and low jagged mountains.
The country is most prominently known as a financial center within Europe and boasts a high GDP and lucrative tax incentives (aka, the county is rich). Because of its proximity to European power countries, it is a cultural melting pot in its own right (it is common to know at least four languages), and it's also known for some of its world-renowned wine. And now, it seems that cannabis might be added to its list of well-known facts and cultural points.
Luxembourg Cannabis Legalization

Luxembourg was one of the earliest countries in Europe to adopt progressive cannabis policies. In 2001, Luxembourg updated a nearly 30-year-old law and reclassified cannabis as a Category B controlled substance. The law mandated that a first possession offense only merit a fine as opposed to jail time, essentially decriminalizing personal possession. Up until now, the fines for possession have ranged anywhere from roughly $300 to $3,000. Then, through 2018 and 2019, Luxembourg made an even more progressive push to legalize recreational use. The country's health minister called on its European neighbors to also ease drug policies and claimed that the Luxembourg drug laws set in place since the 1970s have not worked. The goal was to make recreational use legal within two years to crack down on black market drug trades and reduce the amount of underage drug use and drug-related crime.
Now, it looks like that deadline will be met. The government has officially backed the new policy, and now it must only be passed by parliament to become law. If Luxembourg legalizes cannabis, it will officially become the first country in Europe (and among the first few in the world) to do so. Under the new policy, adults 18 and older will be able to legally use cannabis, grow up to 4 plants per household and possess up to 3 grams of cannabis. For individuals found in possession of over 3 grams, a much-reduced fine of $30 to $600 will be implemented. Cannabis seeds will also become fully legal to trade within the country, with no limit on THC levels. Consuming cannabis in public will remain illegal, as will the transportation of cannabis in and out of the country.
Cannabis Laws in Europe

Seeing that Luxembourg is the first country to fully legalize weed, you've likely surmised that legal weed in Europe is not nearly as common as in the United States. Even in countries that are internationally known for drug use, like the Netherlands (and more specifically, their capital, Amsterdam), marijuana is still illegal. In the Netherlands specifically, there is a very high-tolerance policy for the majority of drugs that are often mistaken for legal approval.
In fact, outside of North America, the list of countries where weed is legal is minimal. So far, recreational cannabis is only legal in some capacity in 18 American states, Canada, Mexico, South America, Uruguay, and Georgia. Some of these countries, like South America and Georgia, only allow for possession and use but do not have a regulated infrastructure. In Europe, there are a handful of countries that have decriminalized cannabis - Austria, Croatia, Czech Republic, Denmark (mostly), Germany (mostly), Italy, the Netherlands, Norway, Portugal, Romania, Russia, Slovenia, Spain, Switzerland, and Ukraine
Similar to the United States, more European countries have legalized medical cannabis than recreational, with the list now including Belgium (limited), Croatia, Cyprus, Czech Republic, Denmark, Estonia, Finland, Germany, Greece, Ireland, Italy, Lithuania, Luxembourg, Malta, Moldova, the Netherlands, North Macedonia, Norway, Poland, Portugal, Romania, San Marino, Slovenia (limited), Sweden, Switzerland, and the United Kingdom.
After Luxembourg, the next European country to legalize recreational cannabis will likely be Italy. A nationwide referendum to legalize recreational weed will be placed on voters early next year - it is expected to pass. Along with Luxembourg, Italy's legalization is estimated to be the start of a European-wide wave of cannabis legalization over the next few years. Much like in the United States, there's a whole lot to be looking forward to in the European cannabis scene.
What are your thoughts on the international state of cannabis legalization? What countries do you think will be next to legalize cannabis? Let us know in the comments below!