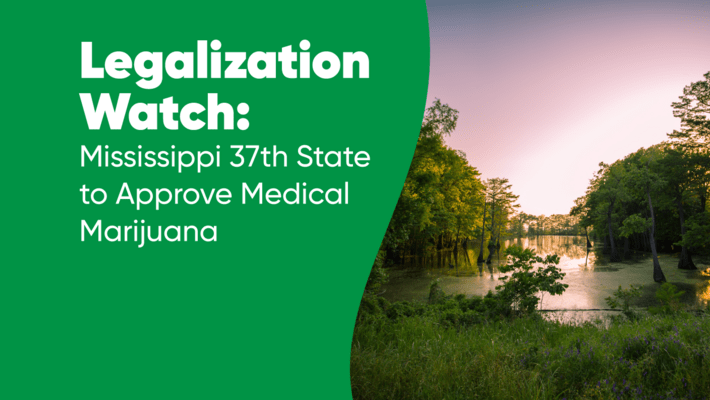 Legalization Watch: Mississippi 37th State to Approve Medical Marijuana
As the legal cannabis industry grows, matures, and changes, more and more states are jumping on board the ultra-lucrative cash cow that legal weed. U.S. cannabis sales hit all-time record highs of $17.5 billion recently, are projected to explode by as much as $5 billion in 2022 alone, and experts see the market cap for the legal industry as high as $91.5 billion by 2028. Needless to say, legal weed is at an all-time high in a variety of ways and states are cashing in on that sales spike. The state of Colorado, for example, brought in an astounding $423 million in tax revenue from legal cannabis sales alone in 2022, selling more than $12 billion worth of cannabis and collecting $2 billion in taxes since 2014. So with all of that money to gain from legalization to be used towards social programs, infrastructure, and vital programs like state-level public education, it only makes sense that other states in the union would look to cash in as well! The state of Mississippi did just that with the passage of Senate Bill 2095 - known as the Mississippi Medical Cannabis Act in early February - making Mississippi the 37th state to create a medical marijuana program of their own!
This article is going to break down exactly what's in that bill, detail what the rules will be for potential patients in the state of Mississippi and who qualifies for a Mississippi medical marijuana card, go in-depth on any purchase limits or quirks with the newly implemented Mississippi weed laws, and answer the ever important question of how and when exactly patients in the Magnolia State can get their medicine. So without further delay, let's get right into it!
The Long Road to Legalization

Mississippi medical legalization has long been on the table for residents of the Hospitality State, with past attempts at establishing a Mississippi medical marijuana program fizzling out or being struck down by the state's Supreme Court. For many, the idea of a state in the deep South of the U.S. legalizaing any type of cannabis seemed like more of a pipe dream than reality. But with the signing of this new bill it becomes a concrete reality for patients and caregivers in the state dealing with issues like cancer, Parkinson's disease, Huntington's disease, AIDS, Crohn's disease, autism, just to name a few.
With the swipe of a pen, Republican Governor Tate Reeves signed the legislation into law and made his support for the upstart Mississippi marijuana industry clear. Per a statement he released on Twitter, "There is no doubt that there are individuals in our state who could do significantly better if they had access to medically prescribed doses of cannabis. There are also those who really want a recreational marijuana program that could lead to more people smoking and less people working, with all of the societal and family ills that that brings."
Not only is this the right move for the state from a money-making perspective, but it's the right choice to get medication into the hands of the patients who need it the most! This is, without a shadow of a doubt, a good move for the state of Mississippi and the overall state of medical cannabis legality here in the U.S.
So Medical Mississippi Cannabis is Legal? What Now?
So now that a medical cannabis program is officially established and signed into state law, what's next? How do patients get involved? When will Mississippi medical dispensaries open for sales? And how does someone go about signing up for the program and getting some Mississippi marijuana of their own? Let's break it down in detail! Now that the Mississippi medical mairjuna laws are enshrined and approved, what's next?
Who Qualifies For Mississippi Medical Marijuana?
According to state law, anyone deemed to have a debilitating medical condition by a certified Mississippi cannabis doctor will be allowed to enter the program. Illnesses and conditions deemed debilitating under the newly approved bill are as follows:

Cancer
Parkinson's disease
Huntington's disease
muscular dystrophy
Glaucoma
spastic quadriplegia
positive status for human immunodeficiency virus (HIV)
acquired immune deficiency syndrome (AIDS)
hepatitis, amyotrophic lateral sclerosis (ALS)
Crohn's disease
ulcerative colitis
sickle-cell anemia
Alzheimer's disease
agitation of dementia
post-traumatic stress disorder (PTSD)
Autism
pain refractory to appropriate opioid management
diabetic/peripheral neuropathy
spinal cord disease or severe injury
or the treatment of these conditions; (ii) A chronic, terminal or debilitating disease or medical condition, or its treatment, that produces one or more of the following: cachexia or wasting syndrome, chronic pain, severe or intractable nausea, seizures, or severe and persistent muscle spasms, including, but not limited to, those characteristic of multiple sclerosis; or (iii) Any other serious medical condition or its treatment added by the Mississippi Department of Health, as provided for in Section 9 of this act.
What Do You Need to Do to Get a Card?

After 120 days from the date of the Mississippi Medical Cannabis Act, the state's health department will begin the licensing and registration process for practitioners, cannabis cultivation facilities, cannabis processing facilities, cannabis testing facilities, cannabis research facilities, cannabis disposal entities and cannabis transportation entities.
After 150 days, licenses for medical cannabis dispensaries will begin to be issued. That means that before you can get a card or a dispensary can even open to legally sell you some Mississippi marijuana, you'll need to wait a bit.
Getting Medical cannabis in the state of Mississippi requires a written certification from a qualifying state-certified cannabis doctor. These Mississippi-licensed physicians, certified nurse practitioners, physician assistants, and optometrists may sign written certifications for conditions within their scope of practice for medical cannabis if they:

Think that the patient "would likely receive medical or palliative benefit" from medical cannabis to treat their qualifying condition;
have performed an in-person assessment of that patient;
perform a follow-up within six months to evaluate the effectiveness of the prescribed medication; and
have completed a mandatory eight hours of continuing medical education courses on medical cannabis, plus five hours every year thereafter.

The certified cannabis professional writing the certification must also have personally diagnose the patient with the qualifying condition. Those written certifications must be issued on forms approved by the Mississippi Department of Health. Only doctors of medicine (M.D.) or doctors osteopathic medicine (D.O.) may sign written certifications for those under the age of 18.
You can also apply for your medical marijuana card online through sites like Leafwell! It's free, quick, and easy to apply - click here for more information!
Possession and Purchase Limits
Just like every other legal cannabis state, Mississippi has rules, laws, and regulations in place for how much each patient can buy and possess at one time.
The state's Possession and purchase limits are calculated based on "Medical Cannabis Equivalency Units" (MCEUs) of 3.5 grams of flower, up to 100 mg of THC in infused products, and up to one gram of concentrate. Patients may not purchase more than six MCEUs in a week (21 grams, which is less than 3/4 ounce). Patients also may not purchase more than 24 MCEUs in a month (84 grams, which is less than 3 ounces). Patients may not possess more than 28 MCEUs at one time (98 grams, which is less than 3.5 ounces).
Cannabis flower purchased from the dispensaries cannot exceed 30 percent THC and any cannabis-infused tinctures, oils, and concentrates may not exceed 60 percent THC.
Other Limitations Under Mississippi Medical Marijuana Laws:

Patients may not drive, operate a boat, train, or aircraft, or undertake any task that would be negligent or entail professional malpractice while under the influence.
Patients cannot smoke or vaporize cannabis in a motor vehicle or in public.
Patients under 21 cannot enter a dispensary without their parent or guardian.
The bill does not require insurance or state plans to cover medical cannabis.
The bill does not require any employer to allow patients to use medical cannabis or prevent them from requiring drug testing.
The bill appears to allow landlords to ban tenants from using medical cannabis at home.
Cardholders and medical cannabis establishment staffers who divert cannabis can have their ID cards revoked, in addition to facing felony penalties.
State-Level Legal Protections
Patients can designate a caregiver to assist them with the medical use of cannabis, such as by picking up their cannabis from a dispensary. Caregivers can assist no more than five patients, except that the limit does not apply when the caregiver works at a health facility or similar institution that provides care to patients.
Caregivers generally must be 21 (unless they are the parent or guardian of a patient) and cannot have certain prior felony convictions. If a patient needs more than one caregiver, they must submit information documenting that more caregivers are needed due to the patient's age or medical condition.
The bill provides that medical cannabis-related contracts related to activities that are legal under the law are enforceable.
Registered patients are protected from discrimination in child custody disputes and in reference to gun rights.
Non-Mississippi residents and individuals who have been Mississippi residents for less than 45 days could register with MDOH to use medical cannabis if they: 1) are certified to use medical cannabis in their home state; 2) have a practitioner statement attesting they have a condition that qualifies in Mississippi; and 3) submit any documentation required by MDOH. They may only register for a total of two 15-day periods every year. Each registration costs $75.
The Bottom Line
Legal weed is alive and thriving in the state of Mississippi. While it's true that the newly established medical marijuana program might take a few months to get going, it will soon enough be up and running, registering patients, and getting people their legal weed without too much trouble at all!