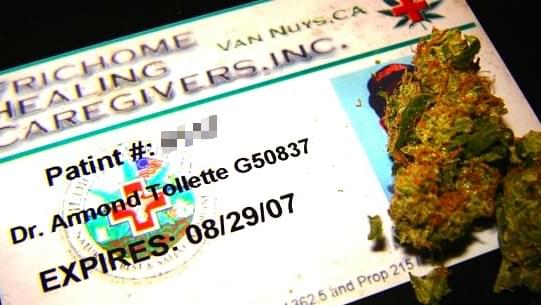 Medical Marijuana Doctor gets to Walk
Charges were dropped againist a Colorado doctor for supplying undercover police officers with their medical marijuana doctors recommendation. The judge ruled in favor of the doctor, much like another case which recently came through the Colorado court system.
A judge has dismissed the criminal case against a doctor charged with felony drug
distribution after undercover police officers alleged he wrote them shoddy medical-marijuana recommendations.
Arapahoe County District Court Judge Carlos Samour tossed the case against Dr. Manuel Aquino-Villaman following a hearing on Friday. Samour said Aquino-Villaman's actions were lawful under the Colorado constitution and also protected by the First Amendment, according to a court summary of the hearing. He also said the charges should be dropped because prosecutors failed to preserve evidence. Aquino-Villaman had been charged with felony conspiracy to distribute marijuana, in addition to forgery and attempt to influence a public servant.
This is the second time that a marijuana-recommending doctor charged in Arapahoe County after an undercover police sting has won a rare dismissal of his case before trial. In May, a different judge dismissed the case against Dr. Toribio Robert Mestas, also saying that the doctor's actions were protected by the Colorado and U.S. constitutions.
Attorney Lauren Davis, who represented Aquino-Villaman, said both cases show a hostility toward medical marijuana by prosecutors in the 18th Judicial District, which includes Arapahoe County.
"Their bias against medical marijuana in Arapahoe and Douglas counties is an affront to the constitutional rights of patients and recommending physicians," Davis said.
The district attorney's office declined to comment on the most recent dismissal, saying they have not yet decided whether to appeal.
In both Aquino-Villaman's and Mestas's cases, undercover police officers posed as patients who complained of injuries or other aches — sometimes backed up by medical records — in attempting to obtain a medical-marijuana recommendation. After brief exams, the doctors provided the recommendations.
Prosecutors argued the exams were substandard and that the officers never complained of "severe pain" — the condition for which they were recommended marijuana. But the judges ruled the doctors' diagnoses were reasonable based on the cops' statements.
"The presumption is that doctors are entitled to rely on what patients tell them in the course of an examination," Davis said. "It's not the doctor's job to play policeman."
The exams in both Aquino-Villaman's and Mestas's case also came before the legislature passed new rules on what constitutes a thorough enough exam for a doctor's medical-marijuana recommendation, which is needed to be a legal medical-marijuana patient. And, because the recommendations are ultimately just advice from the doctors — it is left up to patients to fill out state medical-marijuana registry paperwork or obtain marijuana — the judges in both cases said the doctors were protected by free-speech rights.
Lastly, Judge Samour ruled Aquino-Villaman's case should be dismissed because police and prosecutors failed to keep the patient forms the undercover officers filled out before seeing the doctor.
Aquino-Villaman has been by far the most embattled of the more than 1,000 different doctors who have written medical-marijuana recommendations in Colorado. In March, he voluntarily surrendered his license in the midst of a state Medical Board investigation into a marijuana recommendation he wrote to a pregnant woman. Aquino-Villaman denied wrongdoing and said the woman never disclosed her pregnancy. But his attorney said Aquino-Villaman, now 71, could not afford to continue fighting the case.
Davis said Aquino-Villaman also suffered from his criminal prosecution.
"He spent a good portion of his life savings defending against charges that never should have been brought against him," she said.