No Appeal for Medical Marijuana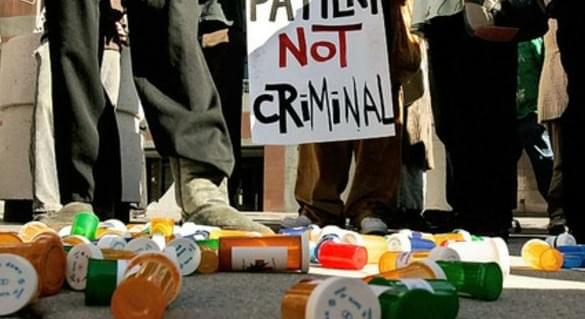 Todd LeClair was one of the victims of our common day court system this passed week when his court ruling for possessing 215 grams and 1300 grams of shake was not overturned. LeClair's appeal was dismissed on all grounds by Justice Paulette Garnett of the Court of Queen's Bench. This charge resulted in $575 in fines for LeClair.
An Upper Hainesville man has lost his appeal of a marijuana-possession conviction after
a Court of Queen's Bench judge rejected his argument he had a valid medical letter of support to have and use the drug.
Todd Terrance LeClair was found guilty late last year of an Oct. 19, 2009, charge of possession of marijuana.
The charge arose after police executed a search warrant at his home and found 215 grams of bud marijuana and 1,300 grams of low-quality pot, or "shake."
LeClair had a medical practitioner's declaration in support of his application under the Marijuana Medical Access Regulations to grow and possess pot for medical reasons, but he didn't receive his official authorization to possess marijuana until three months after the raid.
Chief provincial court Judge Leslie Jackson rejected LeClair's argument the doctor's declaration in and of itself should have exempted him from prosecution, suggesting Health Canada took too long to process his application for the authorization.
LeClair appealed Jackson's decision to the Court of Queen's Bench, but in a decision issued last week, Justice Paulette Garnett upheld Jackson's decision.
In his trial in Woodstock provincial court, LeClair argued his doctor's declaration of support should have been enough to exempt him from prosecution.
He claimed Health Canada took too long to process his application for an authorization to possess, something Jackson he had to have to avoid prosecution.
LeClair maintained the delays in getting the Health Canada authorization prevented him from having timely access to pot.
He'd also asked Jackson to declare relevant sections of the Controlled Drugs and Substances Act unconstitutional.
Jackson rejected all of LeClair's arguments, citing the legislation and precedents set by higher courts.
"LeClair relied on the same arguments in the trial court as he relied on before this court," Garnett wrote in her Nov. 28 decision.
She ruled Jackson addressed those issues appropriately when he delivered his decision.
In his arguments at appeal, LeClair also had challenged the sentence Jackson had imposed - namely, a $500 fine and a $75 victim-fine surcharge.
Garnett said case law is clear an appellate judge should show deference to a trial judge's decision on sentence, altering it only if it's clearly unreasonable.
"The sentence imposed by Chief Judge Jackson is both reasonable and fit. I will not, therefore, alter it," she wrote.
"The appeal on all grounds is dismissed."