Oaksterdam Fights for Its Existence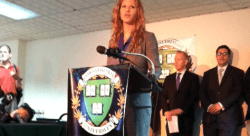 Published on Apr 18, 2012
Dale Sky Jones speaks to reporters about
the future of Oaksterdam University. (Photos by Ellen Komp)CANNABIS CULTURE - A "For Lease" sign now sits on the Oaksterdam mural on the side of the school's building.
The mood was somber at the press conference called to announce the reorganization of Oaksterdam University yesterday. The school will reorganize under a new umbrella company, Wise Education Technology, and have no association with any dispensary business. They are moving to smaller offices, but will be able to use the classroom in their existing building for now.
Dale Sky Jones, chancellor of OU, has taken the reigns of the school, which will keep its classes going despite the loss of its computers with curriculums. They will also try to save the Oaksterdam Museum space, and the Oaksterdam Gift Shop will also remain open.
Jones pointed out that OU's building had been the former home of the Lighthouse Charter school, which was supported by Richard Lee, and moved to a bigger campus. Also ironically, as the feds closed Lee's Blue Sky dispensary, Oakland approved permits for four new dispensaries in Oakland.
Jones opened the press conference saying they hoped to broaden the subject beyond Oaksterdam, since the April 2 raid at the school was illustrative among several violations of the federal government against the intent of California voters. "We can have safer communities if we control, tax and regulate medical marijuana," she said.
Former California Senator John Vasconcellos, the author of SB420, which codified collectives, spoke against the "federal reign of terror." He said we must face these facts: 1. Marijuana is not a narcotic; 2. It is not addictive; 3. It is not a Gateway drug; and 4. It is a medicine. He pointed out that California spent $9 million on a research program at UC San Diego that unanimously proved marijuana's medical value.
A "For Lease" sign now sits on the Oaksterdam mural on the side of the school's building.Vasconcellos said that SB420 was the result of 18 months' work on a task force that included everyone from Dennis Peron to narcotics officers, and that the resulting bill had the support of the California District Attorneys, doctors, nurses, the legislature and the governor. The "vehemence and zealotry" of the federal prosecutors made Vasconcellos say they ought to be in therapy. He mentioned that he was himself a medical marijuana patient, and had his recommendation in his car.
Bob Swanson from Alameda County Supervisor Nate Miley's office, who serves on the Democratic party central committee, opened his comments saying to the Obama administration, "This is not change we can believe in." He praised Oaksterdam U's now-former president Richard Lee for his contributions to the community. As a Vietnam veteran, Swanson said he knows that a lot of veterans can benefit from medical marijuana. He added that he and his wife cared for a cancer patient for two years, someone marijuana took "from the jaws of death" and vastly improved their quality of life. "Reign in theses prosecutors, the DEA and the IRS, and fulfill your promises," he said to Obama. "I want to campaign for you, but I need a new motto."
Jason Overman, from Oakland City Councilwoman Rebecca Kaplan's office, said the feds didn't let Oakland know they were coming the day they raided Oaksterdam. He said to the feds, "if you have extra law enforcement resources here in Oakland, help us combat gun violence," including the illegal sale of guns. He thanked Richard Lee for his invaluable contributions to making Oakland more vibrant, and safe. "We know his contributions don't stop here," he said.
Dale Gieringer of California NORML, one of the authors of Prop. 215, opened his remarks saying, "If you had told me in 1996 that the federal government had not taken a single step to legitimize medical marijuana in 15 years, I wouldn't have believed it." Now, he said, we have a president who promised not to use DOJ resources against states, who has moved not only against Oaksterdam, but in a multi-agency assault across the state, all the while declining to reschedule marijuana after delaying NORML's application for nine years. He called on all to contact the White House and the DOJ. "It's time to call off the federal war on medical cannabis," he said.
Ethan Sommer of the Medical Cannabis Association pointed out that the federal actions in Oakland put 45 people out of work, many of them breadwinners who must now turn to food stamps and unemployment. The federal crackdown, he said, has cost the state of California thousands of jobs. Dan Rush of the United Food and Commercial Workers said the UFCW was working to help find jobs for those who lost them, and on an emergency fund for workers' immediate needs.
Richard Lee spoke, saying he was honored by all the support he's received, and that "I can only hope our story will help end this war sooner." With 80% support for medical marijuana, "If we all stood up, we'd win," he said. Jones called for a national day of action on Friday, 4/20, and enjoined all to take five minutes out of their day to protest.
Find your local Obama re-election headquarters, she said, and tell them why they should support us. She hit a personal note when she said that her 15-month old son will have no health insurance at the end of the month, and said at least four other workers were in a similar situation with young children. At present, all OU employees are working as volunteers.
Contributions to the school can be made at: Oaksterdam.com.
Ellen Komp is Deputy Director of California NORML and a regular contributor to Cannabis Culture. She manages the website VeryImportantPotheads.com and blogs at Tokin Woman.