Prince of Pot Prosecutor John McKay Calls for Marijuana Legalization (VIDEO)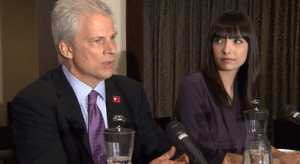 Published on Apr 18, 2012
CANNABIS CULTURE - The former U.S. government attorney who helped put pot activist Marc Emery behind bars joined on Wednesday with Emery's wife Jodie to call for the end of marijuana prohibition.
The press conference (held on April 18, 2012) was organized by Stop the Violence BC, an activist group founded by Dr. Evan Wood that has had major success in acquiring high-profile endorsements for legalization.
"Mexican drug cartels, dangerous gangs operating both in the United States and Canada, are all profiting from the black market that's created by our failed policy," McKay told reporters. "What do we do about the violence that's being spawned here? The pits with headless bodies that are thrown in? It's because they are servicing the demand for drugs, beginning with marijuana, moving all the way through to cocaine, methamphetamine, and heroine."
"I think it's always a great moment when we have more people joining the call to end prohibition in order to save lives, save money, and get rid of the criminal control of this industry," Jodie Emery said. "When we get people who are on the frontlines, who saw the damage done, admit the policy needs to be changed, I think that's always a wonderful thing."
The speakers panel also featured Geoff Plant, the former attorney general of British Columbia, who recently added his voice to the chorus of former Canadian politicians and lawmakers calling for an end to marijuana prohibition.
Though he now thinks marijuana laws are harmful, McKay said he was not sorry for helping put Marc Emery behind bars because the activist broke the law.
"Mr. Emery chose to change marijuana policies by breaking them rather than advocating for change. I think that was a tremendous mistake," he said.
"I know that he was just doing his job," Emery said of McKay. "There are many harmless people who are put in prison and I don't believe my husband should be in prison, I still miss him terribly. But I understand that this law, the prohibition of marijuana, forces police to continue to arrest people and put them in prison.
"My husband, although he did violate the law by selling seeds, nobody was harmed in that exchange and the money used was sent to activists and organizations throughout the United States to try and push towards this change. ... Civil disobedience, when it is done peacefully and non-violently is an important step in changing any unjust law."
The conference was attended by most of the major Canadian media. Read a collection of mainstream media reports of the event or watch the full video on Pot TV.