Bronx Police Make a Huge Marijuana Discovery in Apartment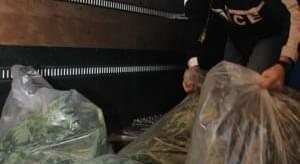 Another bust was made by police acting on a tip; this time in the Bronx. Police found roughly $7.5 million in marijuana growing in the first four floors of a five story abandon apartment building.
Cops raided a Bronx apartment building today and found it had been turned into a pot farm.
Acting on a tip, police broke down the door at 610 Morri Park Avenue at 1 p.m. and discovered a staggering 600 marijuana-growing pots. They filled all of the top four floors of the five-story building.
Officials estimated there was 1,500 pounds of pot growing in the building, and at $5,000 a pound, it had a street value was about $7.5 million.
Cops also found there had modifications to the ventilation of the building and other changes.
"It was like a pot farm in there," one law enforcement source said. "They were using enough electricity, grow lights and such to power an entire city block."
Three suspects in their 20s were arrested on drug dealing and drug possession charges. Brian Munoz, 24, Diego E. Reyes, 25, and Victor Reyes, 23