Thirteen bags of marijuana found in taxi cab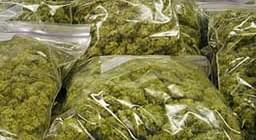 A taxi was pulled over after crossing over the center line in Greenville. When the taxi was approached officers smelled marijuana coming from the vehicle. Police searched the car and found 13 bags of marijuana packaged for sale.
A Greenville man who authorities said was driving a taxi on State 8 in Pickens County has
been arrested on charges he had 13 bags of marijuana.
Cedric Terrell Young, 30, is charged in a warrant with a first offense of possession of marijuana with intent to deliver.
Part of what arose deputies' interest was that a taxi was involved, said Assistant Sheriff Tim Morgan. While some travelers might call taxis for a ride to the airport, the county of rural country side and small towns isn't "overrun" with them, he said.
Deputy Dean Jones wrote in an incident report that he was on patrol on State 8 when he saw a vehicle cross the center line. Jones wrote that he ran the tag and found that it wasn't on file.
After pulling over the vehicle, Jones asked the driver if he could search the car, and the driver said, "sure, there is nothing in it," Jones wrote.
Another deputy, Brandon Faris, wrote that he arrived and began the search when he smelled marijuana coming from a laptop bag in the front passenger seat.
Faris wrote that he found in a search a plastic baggie with large amount of what appeared to be marijuana individually packaged for sale. The incident began at 7:18 p.m. Saturday, deputies said.