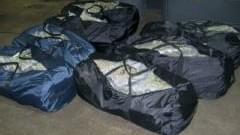 Marijuana, Money, and Guns Found in Pennsylvania Traffic Stop
Roughly $600,000 worth or marijuana, $40,000 in cash, loaded handguns, ecstasy and drug paraphernalia were found on a traffic stop in Lancaster County, PA on Tuesday. Officers stopped two cars going East on the turnpike when they found the marijuana, cash, and guns.
LANCASTER COUNTY, Pa. -- Marijuana with a street value of at least $600,000 was seized
in a traffic stop on the Turnpike on Tuesday.
Troopers pulled over two vehicles for traffic violations in the eastbound lanes of the Turnpike in East Cocalico Township, Lancaster County, on Tuesday afternoon, state police said.
An SUV driven by Deborah Finn, 50, of Austin, Texas, and a pickup truck towing a boat driven by Harland Hendricks Jr., 45, of Eldorado, Calif., were pulled over, troopers said.
Three loaded handguns, $40,000 in cash and 200 pounds of marijuana, which has a street value of at least $600,000, were found in the vehicles, state police said.
A small amount of Ecstasy and drug paraphernalia were also found, troopers said.
Finn and Hendricks are charged with possession with intent to deliver marijuana, conspiracy, possession of drug paraphernalia and firearms violations. Hendricks was also charged with possession of drugs.
The official affidavit of probable cause includes more details about the arrest and what police said they found.