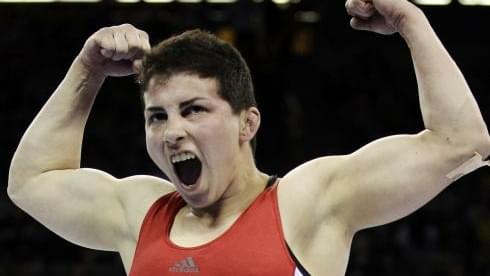 US Olympic wrestler booted off team for marijauana use
Wrestler Stephany Lee has tested positive for marijuana and will not be a part of the U.S. Olympic team in London.
The U.S. Anti-Doping Agency announced Thursday night that she has been banned for one year after testing positive for tetrahydrocannabinol acid, a marijuana metabolite, in a sample collected April 21 at the Olympic trials in Iowa City, Iowa.
"I apologize to USA Wrestling, my teammates, my coaches and everyone who supported me for my mistake," Lee said in a USADA press release. "I will continue to train, and hope to be able to represent my country at the 2016 Olympic Games."
Under the rules of USA Wrestling, the sport's national governing body, Lee's replacement will be the next highest-ranked athlete in the 158.5-pound weight class. That's Ali Bernard, who placed fifth at the 2008 Olympics, and lost to Lee 2-0 in their best-of-three series at the trials.
Bernard, who was in Guelph, Canada, where U.S. wrestlers will compete Saturday in the Canada Cup, said she's excited for the opportunity to compete in London.
"I'm excited for myself, and that's what I'm focusing on," Bernard said by phone. "I need to get focused now. I'm just focusing on getting back into the competitive spirit."
The London Olympics begin July 27.
This is Lee's second doping violation. She won the U.S. Open title in April 2009. But the following month, USADA announced she had tested positive at the tournament for Carboxy THC, a marijuana metabolite.
U.S. women's coach Terry Steiner said he had spoken to Lee about the positive test.
"It's a bad decision that is going to definitely cost her," Steiner said. "We all make mistakes … and this one happens to be very costly. It is what it is. She'll pay with that and live with that decision the rest of her life."
"Like I told Steph, 'You need to handle this in the right way. You need to go forward with your life and learn from it and move on,'" he added. "That's very important right now, to show that she can move forward and do the right things right now."
Two days after winning her spot on the Olympic team, Lee and partner Brigg McDonald were married in a ceremony in Cedar Rapids, Iowa, a state that has allowed same-sex marriage since 2009.
A call to Lee's Colorado residence was answered by her wife, who took a message.