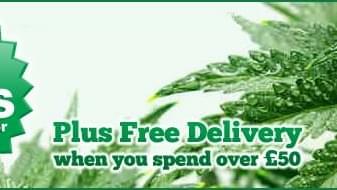 Get Top Quality Marijuana Seeds at Rock Bottom Prices
Hey guys! If you have ever wanted to try out your green thumb and pick up some seeds, let us recommend Cannabisseedsforsale.com!
Cannabisseedsforsale.com has something for everyone. They have seeds for every level of grower- from starter seeds to ones with high levels of THC and low levels of CBD (perfect for medical strains), and even seeds for those of us on a tight budget. With an easy to use search function, and a several categories to choose from it makes finding that perfect strain easy!
If this isn't enough reason to order, Cannabisseedsforsale.com is throwing out some amazing bonuses to those who order this month. Free shipping on all orders over 75$ and 25% off all seeds from the popular Amsterdam based company, Soma.
Every 24 hours there are unique Quickie Deals with products up to 40% off on the basket page. Take advantage of these massive deals by checking the site often to see if your favorite is on sale. Plus with every order you get a freebie of Double Widow, a new strain you won't find anywhere else, added to your order automatically for no extra charge.
Enter the promotional code: WHERESWEED to save a bunch of money on your next order! Also if you recommend a friend you get yourself a 15% discount on your next order.
A quick recap just to make sure you didn't miss anything.
-25% off all Soma seeds
-Free shipping on orders over €50
-Every order gets Double Widow added free of charge
-Quickie Deals on the Basket page for up to 40% off
- Promotional Codes for some additional savings
-Recommend your friends for 15% off
So head on over to Cannabisseedsforsale.com and see these great deals for yourself!