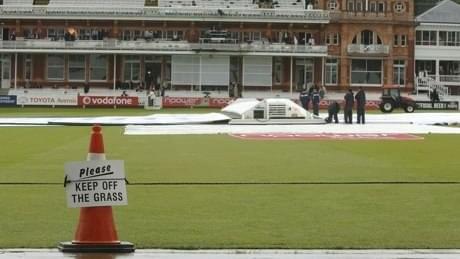 Cannabis and cricket: the highs and lows
REEFER MADNESS
Things to do in Dunedin when you're desperate. It is a short list that just got a little longer. New Zealand's first museum of marijuana, Whakamana, has opened in a house on David Street. You can't miss it. There is a mannequin in the window posing with a phoney spliff. The local police, wary of this new venture, have already been for a visit, seeking, and receiving, assurance that "visitors would not be supplied with anything but information". Judging by the video clip shown on the local news they won't have found anything much more than a few glassy-eyed blokes with beards staring at pinboards covered with curly-cornered clippings of old newspaper articles about the long-going, on-going campaign to legalise the drug.
The first major exhibition at the marijuana museum opens in a couple of months, to coincide with the start of New Zealand's Test against West Indies at the Oval across town. Curator Abe Gray says it will be about the culture of cannabis use in cricket: "We'll be looking at the history of cannabis use among cricket teams, cricket players, and the New Zealand cricket team." A novel idea, and one which the MCC will, no doubt, be keeping a keen eye on in case they decide to stage a similar installation in the museum at Lord's.
If you want to look at the many highs and lows – mainly highs – of cannabis and cricket, New Zealand is a good place to start. The grass seems to be greener on the far side of the world, which may be why so many England players have got into trouble there. It was on the infamous "drugs, sex and rock 'n' roll tour" to New Zealand in 1983-84 ("I know I was there because I've checked the record books," writes Vic Marks. "Obviously I don't remember anything about it") that members of the England team were accused of smoking pot by the Mail on Sunday. The Test and County Cricket Board held an enquiry, which resulted, in Wisden's diplomatic words, "in the party being cleared of having done anything off the field which might have affected their playing performance".
The TCCB was less lenient when, two years later, Ian Botham admitted in that same paper that he had dabbled with the drug. Frank Keating, sickened by suggestions that Botham should be banned for life because of his moral turpitude, suggested instead that he should be "paid for bringing the game into repute". So started the era of 'Reefer Madness'. Stephen Fleming, Matthew Hart and Dion Nash all confessed after being caught smoking at a barbecue in South Africa in 1993. Nash made like Bill Clinton and insisted that he "didn't inhale".
Keith Piper, Paul Smith, and Dermott Reeve all admitted using it at Warwickshire. Phil Tufnell was accused of using it but later cleared of doing so by the England management (on tour in New Zealand again) in 1997, and banned when he skipped a drugs test the next season. Five South African players, Roger Telemachus, Andre Nel, Paul Adams, Justin Kemp, and Herschelle Gibbs, were caught smoking it at a party in 2001. In 1993 Wasim Akram, Waqar Younis, Aqib Javed, and Mushtaq Ahmed were all arrested and accused of possession during a stopover in Grenada, although the Pakistan management strongly protested the charges. Much more seriously, their Pakistan team-mate Qasim Umar insisted years later that as a young player he had been shown by 'a senior international' how to carry a cricket glove in his kit in which the fingers had been opened up and the stuffing pulled out so that cannabis could be packed in in its place.
West Indies' David Murray said that he smoked pot "before and after the day's play, but never in the breaks – you can't do that". Which shows just how disciplined you needed to be to play professional cricket in the 1970s. Murray never made it as a Test player. Club players have the luxury of being a little more lax. In Penguins Stopped Play, Harry Thompson describes his team-mate Cie. "A devilish spin-bowler, his performances could be erratic," Thompson wrote. "Finally we discovered his secret: dope. Without it, his bowling was no more than ordinary. But give him several oak-tree-sized spliffs behind the pavilion during the tea interval and he could make the ball fizz, swirl, bite and spit. 'Yeah man' he would exult as he bamboozled his way through the opposition. The ball, it seemed, was as stoned as he was."
The very occasional exception aside, marijuana is reckoned to inhibit performance rather than enhance it. Which is one reason why Wada, which classes it as a "specified substance unlikely to have been taken for performance enhancement", recently raised the threshold for a positive test from 15 nanograms per millilitre to 150. Even Thompson admits of Cie that "after a joint or two, he couldn't bat for toffee".
Its debilitating effects were never better illustrated than by the tale of the Australian team Nerrena CC. In 2005 they travelled to Inverloch for a crucial league fixture. The Nerrena players were pleasantly surprised to find that the hosts had laid on a spread of suspiciously moreish chocolate cupcakes for their guests. "I thought, gee this is pretty good," said Nerrena player Tim Clark. "They usually feed us crap." He ate five of them. Soon his team-mates began complaining of "sunstroke-like symptoms". Two broke into hysterical giggling fits, and had to leave the field because their mouths were so dry. Clark said it took him 20 minutes to put his pads on once play started, and almost four hours to assemble a kit bicycle at the end of the day. "I was all over the shop. I was putting the handlebars where the seat was meant to be."
Inverloch denied everything. One of Nerrena's players pointed out afterwards that "if the police had tested me for drugs as I drove home, and I came up positive, what could I have said to them? 'It wasn't me, I was fed drugged cupcakes at cricket?'"