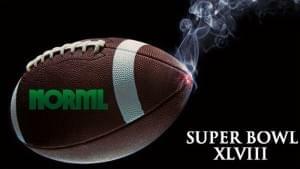 Intuit Does Not Advance NORML to Round 3 in Super Bowl Ad Contest
Today, Intuit announced the 20 finalists who moved on to Round 3 of their "Small Business, Big Game" contest. Despite finishing first in the initial round of public voting (Intuit removed the ability to sort by vote popularity during the second round) and generating hundreds of media hits through Round 2, Intuit, for reasons not communicated to NORML, decided not to advance our entry to the latest round in the contest.
(NOTE: Intuit had opened the contest up to non-profit organizations, which NORML is. We also met their requirements in both staff and budget for being a "small business")
"It is unfortunate that Intuit seems to be relying more on outdated political values instead of overwhelming public opinion when it comes to selecting which entries advanced in their contest," noted NORML Communications Director Erik Altieri, "As demonstrated by the outpouring of support and positive media coverage for our entry, the country was ready and eager to see an ad for sensible marijuana law reforms during the most watched TV program of the year. This could've been a win for all groups involved, but instead Intuit will likely have only generated ill will for itself amongst the 58% of Americans who now support ending our country's war on marijuana."
Though NORML has been excluded from Round 3 of the contest, our entry was covered by countless media outlets across the country.