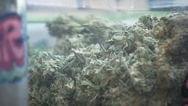 Medical marijuana farmers market opens in Seattle
SEATTLE —A new medical marijuana farmers market opened in Seattle on Sunday.

Vendors sold everything from cannabis candy to lotions and creams to dried buds.

But the market was also the stage for a "battle" over marijuana rights.

"It's so important for everybody that actually values medical cannabis to defend their medical cannabis rights," Director of the World Famous Cannabis Farmers Market Jeremy Miller said.

He said he and market co-founder Kristin Miller are ready for a fight.

State and local leaders are hashing out the details on recreational pot regulations, which include the number of stores allowed and added costs. Miller is afraid those leaders will do the same to medical marijuana next.

"You're worried about things like taxes," KIRO 7 said.

"Yeah," he said, "it's not just me-- it's patients."

Miller said in his push for different laws for medical marijuana, he and others started putting together video testimonials from patients on Sunday as shoppers visited the market.

He said they also plan to lobby in Olympia next year. Miller believes medical marijuana use should be overseen by the state's department of health, not its liquor control board.

Patients at the market support the efforts.

"When I started taking cannabis, a magical thing happened: All my symptoms, all my pain, all everything just went away," patient Mae Tang said.

She said marijuana helped her with a badly sprained ankle and is hoping lawmakers listen up.

The market also supports a program that raises money through raffles to fight for people behind bars on federal marijuana charges.

While pot use is legal in Washington state, the Department of Justice said only last month that it would lay off enforcement for now.