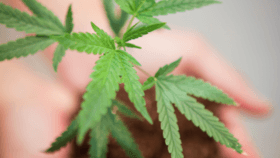 Minnesota names new director of medical cannabis
Minnesota has hired a director to lead its newly created Office of Medical Cannabis.
The Legislature legalized the limited use of medical marijuana this year and on Wednesday the Minnesota Department of Health named Michelle Larson to oversee the program.
The new Office of Medical Cannabis has one year to set up a statewide system that can produce, distribute and regulate the use of medical marijuana. Larson comes to the job after serving as deputy director of the health department's Office of Statewide Health Improvement, which tackled hot-button issues like tobacco, obesity and nutrition.
Larson's to-do list for the next few months will include screening and selecting the manufacturers who will produce medical marijuana, developing rules to govern the operation of the dispensary system and building a patient registry.
Minnesota has one of the most restrictive medical marijuana laws among the 23 states that have legalized the drug for medical use. Starting in July 15, patients with certain doctor-certified conditions like cancer, seizure disorders, glaucoma or terminal illnesses, will be able to legally buy marijuana in liquid, pill or other non-smokable forms. The federal government still considers marijuana an illegal substance with no recognized medical use.