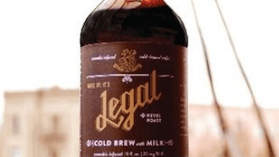 Marijuana coffee promises different morning jolt
This cup of joe promises to give you a different sort of morning jolt.
A company in Washington state will introduce marijuana coffee this summer.
Mirth Provisions' cold brew coffee contains 20 milligrams of THC, the active ingredient in marijuana, per 11.5-ounce bottle.
Mirth founder Adam Stites said he has been developing the marijuana coffee concept for about a year, working at first on recipes in his kitchen.
The product for sale will give the drinker "more of a head high, more energizing," Stites said.
Mirth also will sell sparkling sodas that contain THC, with flavors such as lemon ginger and pomegranate. The drinks will cost about $9-$11, Stites said.
Washington residents will have to wait to buy the drinks until the first marijuana retail stores open, as soon as early July. Only Washington and Colorado have legalized recreational marijuana.
Under Washington's marijuana edibles rules, a product cannot contain more than 100 mg of THC, and a single serving cannot contain more than 10 mg.
Stites said he decided to "err on the side of being conservative" with the THC dosage.
"We recommend people drink half the bottle, wait an hour to see how they feel, and then continue drinking the rest," he said.