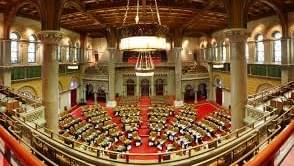 Medical marijuana legislation passed by State Assembly
Albany, NY (WBNG Binghamton) The New York State Assembly approved a bill to legalize the administration of medical marijuana.
The State Senate will vote on the legislation Friday morning.
The Assembly passed the Compassionate Care Bill just before 3 a.m. Friday. The legislation will establish a medical marijuana program for New York State.
It includes provisions to ensure medical marijuana is reserved only for patients with serious conditions and is dispensed and administered in a manner that protects public health and safety.
"This legislation strikes the right balance," Governor Cuomo said. "Medical marijuana has the capacity to do a lot of good for a lot of people who are in pain and suffering, and are in desperate need of a treatment that will provide some relief. At the same time, medical marijuana is a difficult issue because there are risks to public health and safety that have to be averted. I believe this bill is the right balance, and I commend the members of the Legislature who worked so hard on this measure."
New York State Assemblywoman Donna Lupardo (D) is a co-sponsor of the bill.
"The assembly has passed this bill many many years in a row and now it looks like we're going to have the beginnings of the medical marijuana program in New York State," said Lupardo. "Not everything that those of us in assembly wanted but its certainly a huge step forward for people who wanted to have this option for treatment."
If passed by Senate and signed by the Governor, New York would become the 23rd state to legalize medical marijuana.
Find details of the bill below:
Medical Marijuana Reserved for Patients with Serious Conditions: