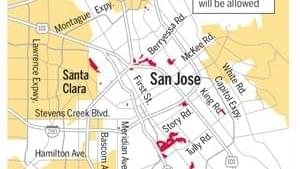 San Jose marijuana businesses face troubles over new laws
In a recent vote, the San Jose City Council has moved to require all marijuans busiensses relocate within select industrial areas of the city. Additionally, businesses that comply will also face a series of new and costly restrictions.
Motivated by concerned parents and businesses owners, the marijuana businesses will also be required to grow all marijuana within the Santa Clara county, set specific hours and set up 24 hour security, as well as prohibit any smoking within the actuall business itself.