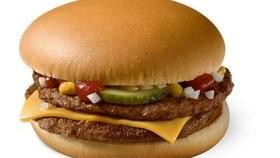 Iowa McDonald's Serves McDoobie Burger
A McDonald's in Iowa is now reportedly serving McDoobie burgers. Law enforcement officials in Ottumwa say they recently responded to a call at a Southside McDonald's where a couple of patrons claimed their food had been dressed with an illegal condiment – marijuana.
Earlier last month, Cory Long stopped off at a nearby McDonald's to buy two McDoubles for his pregnant fiancé, Brittany Songer, so she would have something to eat at work. Although Long says he did not taste anything out of the ordinary when he took a bite of the burger, Songer said she could tell there was something weedy wrong with the food.
"It tasted bad, and I thought maybe it was because he had cologne on his hands when he bit it. Then I opened the burger and the cheese was just covered with weed," Songer recently told the Ottumwa Evening Post. She added that the pot burgers were apparently packed with some pretty good stuff because they reeked up the entire store so much that her boss asked her to put them in a plastic bag.
"Once I opened those burgers, you couldn't smell McDonald's anymore. You could only smell the illegal drugs that were on it," said Songer.
After work, Songer and Long took the alleged bud burgers back to the McDonald's and called the police to come down there to solve the mystery of the marijuana McDouble. However, Lieutenant Jason Bell with the Ottumwa Police Department says nothing can be done until the crime lab determines that the substance is, in fact, marijuana.
"So far it is just alleged that it is marijuana, we haven't gotten any results back from the [Iowa Department of Criminal Investigation] Lab in reference to the substance on the burgers," he said.
Lieutenant Bell says if the lab proves it was marijuana on the burger, someone could be charged with administering a harmful substance — a Class D felony.
Note to McDonald's employees: We like our weed on the side. Thank you!