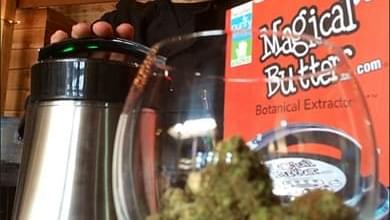 Marijuana food trucks? Seattle start-up going gourmet
Marijuana food trucks? A Seattle company hopes to roll them out in the future after a prototype debuted in Denver this month featuring gourmet food infused with, as an option, marijuana.
"And we're very proud to say we're the first company to have a cannabis food truck in the world," said Executive Chef Jeremy Cooper of Magical Butter, a year old upstart company headquartered in an artsy warehouse in Seattle's hipster Soho neighborhood.
In fact, Cooper says the company would like to franchise the trucks.
"We have high expectations for the truck," he said with almost no expression. "We serve 'samiches,' because that stands for Savory Accessory Marijuana Infused Culinary Happiness. And it's delicious."
But the company's marijuana food trucks are not the whole story. They can barely keep up with the demand for their patented machine called The Magical Butter Botanical Extractor. It's a high tech kitchen appliance for under $200 that can infuse oils, creams, or butter with any herb, including marijuana.
Cooper demonstrates: Pour in the marijuana, add extra virgin olive oil and the machine, complete with a little light show on the top, does the rest. An hour or two later, out comes the olive oil infused with essence of marijuana and almost no pot odor.
"I personally like to use it for pasta. I can use it for salad dressing," Cooper said.
Cooper said their last shipment of 6,000 sold out in six days worldwide. He said about half the buyers use the herbal extractor for non-marijuana use.
But clearly they are marketing to pot users, whether recreational or medicinal. They even have a catchy jingle.
And next the company will organize and host the nation's first convention of marijuana-related businesses, at the Tacoma Dome August 14-17. No smoking allowed.