New York Senate Health Committee cleared medical marijuana measure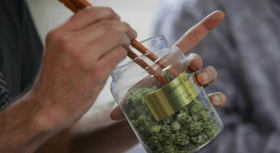 Published on May 21, 2014
Supporters of legalizing medical marijuana in New York were flying high after the measure cleared the Senate Health Committee for the first time Wednesday afternoon.
The bill, sponsored by Sen. Diane Savino (D-Staten Island), was reported out of committee by a 9-8 vote.
It now goes to the Senate Finance Committee. If it passes there, it could be brought to the floor for a full vote of the Senate before the legislative session ends next month.
The legislation would authorize the use of medical pot to treat specific "serious, debilitating, life-threatening" chronic llnesses. Savino recently amended the bill to allow its use for rheumatoid arthritis. But at the urging of the state's ophthalmologists, it would not cover glaucoma.
Savino has said she has at least 39 votes for the measure in the chamber. Twenty one states have already legalized medical marijuana.
Supporters of the bill filled the hearing room for the vote and broke out into loud applause when it was announced it was reported out of committee.
Savino tried to alleviate fears that New York's program could mirror the much maligned California program that critics say made it too easy to obtain pot.
Savino said the bill, known as the compassionate care act, "would create would create tightest most regulated program in the nation."
The bill, she said, lists 20 different diseases for which medical marijuana can be prescribed. It would also create an advisory panel to consider expanding or reducing the list in the future based on science and doctor recommendations.
The legislation would also require that every pot plant have a bar code that Savino said would make "impossible to divert this into the black market."
And it would restrict to 20 the number of manufacturers that would be licensed to grow the pot.
A bill introduced by Sen. Phil Boyle (R-Suffolk County) would not allow medical marijuana to be smoked. But Savino said that could seriously hamper some patients. Instead, her bill would prohibit the smoking of medical pot by anyone under 21.