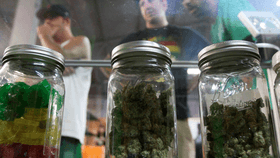 Washington's recreational pot sales reach a new high
Sales of recreational pot in the state doubled in August and are on pace to grow again this month.
Two months after the first recreational marijuana shops opened their doors in Washington, sales are flying high and providing a growing stream of tax revenue for the state.
Customers have bought $12.1 million of legal recreational pot since July 8, the day licensed stores first opened for business, according to Washington's State Liquor Control Board. Total sales doubled in August to $6.9 million from $3.2 million in July. Meanwhile, monthly tax revenue climbed to $1.75 million from around $805,000.