Portland Police issue a very Portland guide ahead of marijuana legalization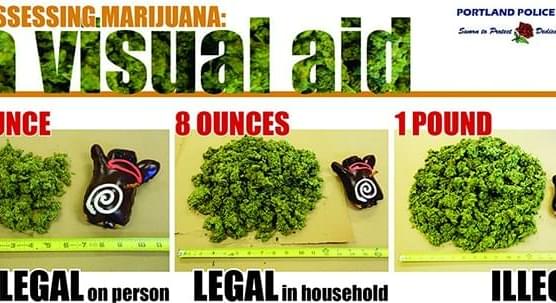 Published on Jun 24, 2015
In only a few days time, Oregon's recreational marijuana bill will go into effect allowing adults over the age of 21 to purchase marijuana to be used in private. In preparation, the Portland Police issued a fun way of reminding citizens of the legal limits for possession. Personal possession in public is limited to 1 ounce, or roughly the size of a voodoo doughnut doll. Possession at home is limited to 8 ounces while everything over that is still illegal. Driving under the influence of pot and public consumption are both illegal, but police urge citizens to NOT call 911 unless there is an immediate risk.
On a more serious note, you can be arrested for Driving Under the Influence of Intoxicants or get a citation for using in a public place. Along those lines, if you do see someone using marijuana in a public place, police urge you NOT to call 911, unless there is an immediate public safety risk.

Transporting marijuana products from Washington to Oregon is a violation of Federal drug laws.

If you smell marijuana from your neighbor's home or yard and it's bothering you, police say you should discuss it with them privately and not call 911.