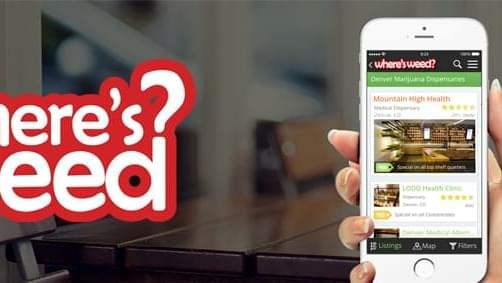 Where's Weed debuts new iPhone & Android apps, allowing customers to place marijuana orders directly from their phone
DENVER, CO, July 3rd, 2015 - Where's Weed, the largest online source for legal marijuana, is pleased to announce the release of a new online pre-ordering platform via the website and mobile apps.
With the new platform, customers can quickly and safely pre-order legal marijuana with trusted businesses in their community. Within 60 seconds, customers can select products, upload medical verification and schedule a pick-up at their convenience.
On a small scale beta test across three states, Where's Weed recorded hundreds of pre-orders in the first 30 days, amounting to more than $25,000 in business to consumer transactions.
A large portion of the pre-orders were gained through Where's Weed's recently released app for iPhone, Android, and Windows Devices. Due to Apple's restrictive policies that many other cannabis businesses have had issues with, the pre-ordering feature is only available on Android and Windows devices.
"Business owners are having huge success with this tool," said Tyler, President of Where's Weed. "Not only are we bringing a whole new set of patients to businesses, we're actually able to save them quite a bit of time."
"Patients are loving it too. They get real time updates through email or the app about their order and when it will be ready, and we've seen a lot scheduling pick-ups and deliveries in advanced. Its all about convenience for them."
The Online Ordering tool has already expanded into 6 different states with more than 75 dispensaries utilizing it since full launch. Slightly over 500 users have already tried the ordering system.
About Where's Weed
Where's Weed helps people connect with trusted marijuana businesses right in their community. Since 2011, Where's Weed has been dedicated to helping patients discover marijuana dispensaries and doctors, review marijuana products and interact with others in the community.

Contact:
Bill Anders, Where's Weed
Website: www.WheresWeed.com
Email: [email protected]
Phone: (303) 502-9293