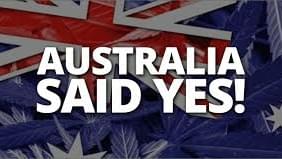 Australia's first marijuana farm is in a secret location in the countryside
In February of this year, the Australian government amended the Narcotics Drugs Act allowing states to award licenses for the cultivation and research of medical marijuana. This week, Victoria became the first state in Australia to legalize medical marijuana, followed by the implementation of their first farm, which they're keeping very secret. They claim the completely medical marijuana farm is hidden deep in the Australian countryside.
"We have been able to bring Australian political views up to date with current world views to change laws," Haslam said, according to the ABC. "We have begun the process of re-educating Australian health providers around the use of medical cannabis."

Haslam has big plans for the future of medical cannabis in the country. "We see it as a new Australian primary industry," she said.